Emmanuel P
September 4, 2012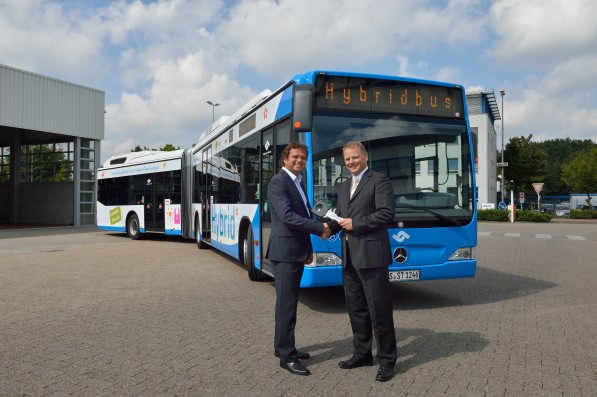 Hybrid vehicles make it to the mainstream news on a regular basis these days, touting their green advantages and all that. Normally, hybrids are associated with frugal daily drivers, although hybrid sports cars seem to be in our immediate future too. Now, a municipal transport operator in Munster, Germany has begun running a pair of hybrid buses supplied by Mercedes-Benz.
Last August 27, a ceremonial handover of two Mercedes-Benz Citaro G BlueTec Hybrid buses was made to vehicles to Eckhard Schläfke of the Münster municipal transport service. These buses are to be used in Munster's high-demand, high frequency routes, where the commuting population of 35 million is serviced by a fleet of 174 buses. It's notable that Munster is the largest city in Germany without a rail or tram system, so focusing on environmentally-friendly buses is particularly important.
Mercedes-Benz's Citaro G hybrid buses are eminently suited to the needs of an environmentally conscious city. For starters, the diesel-electric hybrid can run through the city's historic center entirely on electric power, thus emitting no pollution at all and running virtually silent. Main propulsion is via electric motors mounted on four wheel hubs. These are driven by a lithium-ion battery bank that's touted to be one of the largest installations in a mobile application.
The gearbox-less system provides an equivalent of 320 kW, or almost 430 horsepower. As anyone who has driven an electric vehicle well knows, torque response is immediate, so the 18 meter long Citaro can accelerate pretty rapidly, even fully laden. Furthermore, the bus features regenerative braking, so that the diesel engine is utilized as little as possible. Speaking of which, the diesel powerplant is half the size and weight of a standard engine found in diesel buses, so aside from being lighter to propel, it also burns significantly less fossil fuels.
For a city that prides itself on environmental sustainability, Munster's choice of the Citaro G Bluetec is a significant investment in the right direction.