Ryan Joseph Ramos
September 1, 2012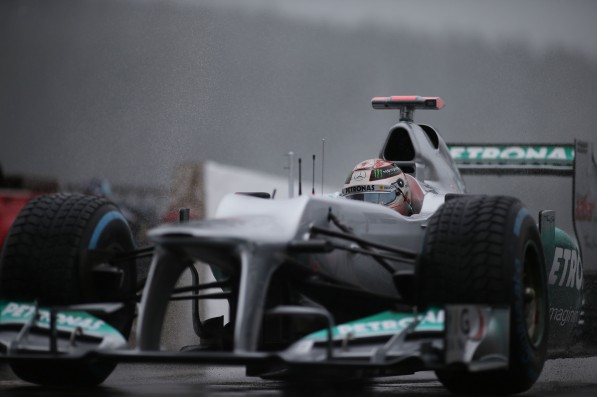 After a long break, Formula One action returns—this time at the rain-soaked Circuit de Spa-Francorchamps in Belgium. The excitement, however, quickly faded for Mercedes AMG Petronas after a disappointing qualifying session that saw Michael Schumacher and Nico Rosberg qualify at P13 and P18, respectively.
"I am really sorry for my fans but I am afraid I have to say that I got pretty much everything that we could from today," said Schumacher.
"The car was not quick enough, and especially in the mid-sector we were too slow. We now have to take it as it is and try to do the best we can in the race tomorrow."
Rosberg will fall even farther down the starting grid once the race begins, after getting slapped a 5-place grid penalty because of a gearbox change.
"Starting from the back of the grid tomorrow is really disappointing, although I had no chance to prepare my car due to the gearbox problem this morning," said Rosberg. "I hope I can gain some positions in the race but I'm not overly optimistic as our car is not one of the quickest on this track. I will definitely push hard."
Jenson Button clinched his first pole position as a McLaren-Mercedes driver, and it was his first one since 2009 when he was still driving for Brawn GP. Sauber's Kamui Kobayashi will start at P2, followed by Williams' Pastor Maldonado, Lotus's Kimi Raikkonen, and Sauber's Sergio Perez.
Schumacher is still trying to progress in a season marred by inconsistency and lack of reliability. Out of 11 races so far, Schumi had to retire 6 times. In the five races he did finish, he was competitive and always finished with championship points. Rosberg, meanwhile, had been a strong contender at the start but is slowly falling behind. Currently at sixth place, he is 39 points behind Raikkonen, who is at 5th.