Clarissa
August 29, 2012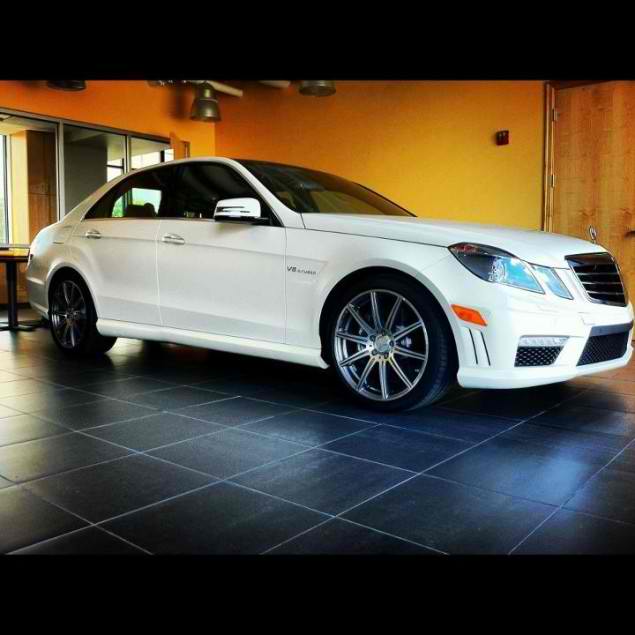 Modern Horsepower has been tuning Mercedes and AMG cars which are very powerful and dynamic. To add to the list of their numerous records, their latest project, 2012 E63 AMG became the World's Quickest M157.
The BiTurbo V8 car split the 60-130mph in 7.71 seconds, beating the previous holder of the record by .28 seconds. All these are in the Official 60-130mph List of 6SpeedOnline.com.
Modern Horsepower LLC, proven to be one of the most dynamic Mercedes Benz & AMG tuners in recent history, has added yet another World Record to their already impressive list of accolades; this time in their project 2012 E63 AMG (M157 BiTurbo V8). The World's Quickest M157 in MHP S2 trim ran the 60-130mph split in 7.71 seconds, defeating the previous M157 record holder at 7.99 seconds by a significant .28 seconds as certified and recorded on http://www.6speedonline.com Official 60-130mph List–the industry's benchmark for credible and verifiable VBox data. For frame of reference that's three hundreds of a second quicker than your neighbors Ferrari F458 (7.74 seconds) despite it carrying 1100lbs less mass. Additional perspective can be provided by reviewing a few other notable times: Lamborghini LP640: 7.85 seconds, 2012 Nissan GT-R: 9.4 seconds, with Porsche's Panamera TT, a direct competitor to the M157 BiTurbo E63, requiring 10.14 seconds to complete the same task.
Via the verified VBox submission (also viewable on http://www.dragtimes.com) you can also see that the MHP S2 E63 accelerated from 60-110 in 4.94 seconds, meaning the lightly modified sedan from Affalterbach was gaining over 1mph every tenth of a second, or over 10mph every second, during that 50mph spread.
MHP's M157 endeavors began immediately after taking delivery of their non PP 2012 E63. Within the first two weeks of ownership and with MHP v3 CDT or software remapping alone, the car jumped from 487rwhp/495rwtq SAE on 93 octane using a Dyno Jet dynamometer, to an incredible 618rwhp/740rwtq SAE on the same 93 octane fuel—this also showing how highly underrated the factory BiTurbo V8s truly are. Making for gains of 131rwhp/245rwtq SAE, translated into crankshaft numbers the tune only gains are a market leading 160HP & 298lb/ft, totaling out at 753HP and 873lb/ft of torque utilizing stock air filters to boot.
MHP's Stage 2 kit for M157 E63 and CLS63s includes replacing the entire factory exhaust from the twin turbos to the tips, creating an entirely new, more powerful and efficient 100% bolt-on exhaust. MHP's solution to the restrictive four 500cpi catalytics and non-mandrel bent 2.75" tubing is a full 3" U.S. Stainless Steel design that includes standard V-Band clamped test pipes with optional 200cpi metallic substrate catalytic converters (owners can swap for track days in under 2 minutes), 3" 304 SS Tubing throughout, with X-Pipe, resonators, two choices in mufflers (Race & Street) and inert gas backpurged 316 TIG welds. Modern Horsepower President Andrew Cluck explained " We (MHP) don't view cutting and welding aftermarket downpipes and/or cat delete kits into the factory exhaust as a satisfactory solution for any vehicle, especially an AMG product. Optimal performance only comes from a clean-sheet redesign, anything less is more or less a band-aid." MHP also plans to make a similar full exhaust in both Race and Street trims for the ML63 and its niche market of Uber-SUV performance junkies. As with all of MHP's exhausts, both Race and Street systems carry a Lifetime Warranty on all parts and workmanship. MHPs 180F modified OEM thermostat and drop in air-filters top off the record setting S2 E63 package, and based on the 60-130 data and preliminary dynos MHP says to expect 640-650rwhp and 775-780rwtq SAE on 93 octane with S2 or S2+ M157 Packages. Again, translated into crankshaft numbers that equates to 786HP and 920lb/ft of torque on 93 octane from a true bolt-on package. Stage 3 with an anticipated release date of 10/1/12 will incorporate additional cooling modifications with Stage 4 cars bringing upgraded turbos, engine internals and transmission modifications to the table by the time SEMA rolls around.
MHP also announced it is just weeks from releasing the World's first equal length, stepped longtube headers for the SLS AMG and upcoming SLS GT AMG. When Mr. Cluck was asked about their decision to go with such a complex header design he responded with the following: "While we find the single 1 7/8" primary diameter of our C63 coupe and Sedan Longtube Headers to be sufficient for the M156 series of engines, the amount of changes made to the M159/SLS engines necessitated and warranted a full on Race longtube header design." Said improvements were explained to include huge OEM airflow improvements on the inlet side of the motor from the airboxes to the short runner velocity stack type intake manifold, and even +1mm larger exhaust valves with larger exhaust ports in the cylinder heads themselves. "By going with a stepped design we ensure that we achieve maximum horsepower and torque gains over as broad an rpm band as possible–we are highly confident in our design and are extremely excited to begin testing. Thankfully the SLS chassis affords us significantly more room under the car vs M156 variants, which allowed us to completely uncork what is unquestionably one of the, if not the, last of the great naturally aspirated V8s in the World." MHP promises a custom high velocity cone/spike merge collector leading back via 3" 304 S.S. Tubing to an X pipe and resonators of the same diameter. "As always we look to make more safe horsepower and torque with similar modifications than our competitors, as proven at the track, via VBox and on the dyno. We'll then jump to our Stage 3 & 4 development including hand ported cylinder heads and custom SLS specific grind billet rifle drilled 9310 camshafts, with an ultimate goal of 580-600rwhp naturally aspirated for the SLS and SLS GT AMG and future M159 variants."
Modern Horsepower LLC is the holder of numerous Mercedes Benz & AMG World Records including: World's Quickest & Fastest AMG—Keith Brantley, World's Quickest & Fastest Naturally Aspirated Mercedes Benz & AMG–Mike Conforti, World's Quickest & Fastest Tune Only M156 (C63)—Chris Roupas, World's Quickest & Fastest Tune Only M275 (SL65)—MHP, World's Most Powerful Tune Only M113 (E55K)—MHP, World's Quickest M157 60-130mph (VBox Verified), just to name a few. Mr. Cluck states regarding present and future 2012+ M157 and SLS M159 AMG product offerings "The only way to ensure 100% product quality is to test, test, and then test some more. Having 100% access to both the E63 and SLS has and will continue to allow us to bring forth new and innovative products for these AMG variants, as we have with the M156 series of 63 AMGs." Mr. Cluck closed in saying: "We look forward to setting new records in the ¼ mile and on the dyno with the S2 E63 and S2 SLS in the coming weeks. " Modern Horsepower is still the only Mercedes Benz and AMG tuner in the World to manufacture camshafts and matched tuning for the M156 and M159 series of engines including grinds for naturally aspirated, supercharged, nitrous and custom applications.
Source: PR Web