Ryan Joseph Ramos
August 3, 2012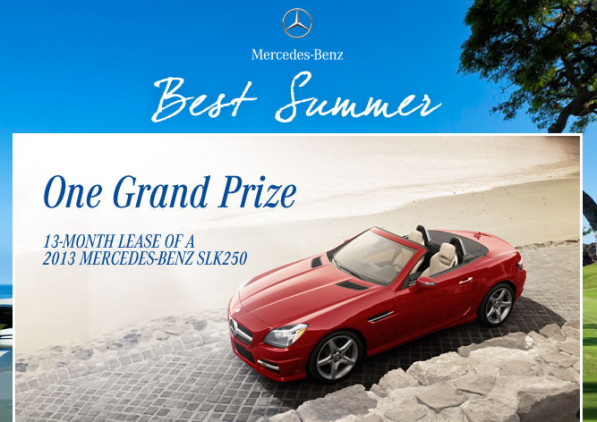 Want a free 13-month lease on a new 2013 Mercedes-Benz SLK 250? All you have to do is join MB USA's Best Summer promo on Facebook and you could be enjoying that sweet ride for more than a year.
The mechanics of the promo are simple: go to the Mercedes-Benz USA Facebook page [or directly to the Best Summer page], click "Like" to view the instructions, and just follow them step by step. This means registering your name, address, e-mail, and contact numbers, then uploading a photo that shows your Best Summer moment with the Mercedes-Benz brand. You'll be automatically entered into the Sweepstakes for a chance to win the 13-month lease for the SLK 250. Of course, you need to meet the eligibility rules as stated in the promo's page.
The odds aren't great, but there will also be 50 consolation prize winners who will each get unisex SLK-branded aviator sunglasses. It's a far cry from getting a car, but at least you still get something.
Mercedes-Benz's Best Summer campaign doesn't stop with this promo; there are several events in the summer season tied to the automaker. The 94th PGA Tour, the Pebble Beach Concours d'Elegance in California, and the US Open are perfect opportunities to snap some Best Summer entries.