Ryan Joseph Ramos
July 8, 2012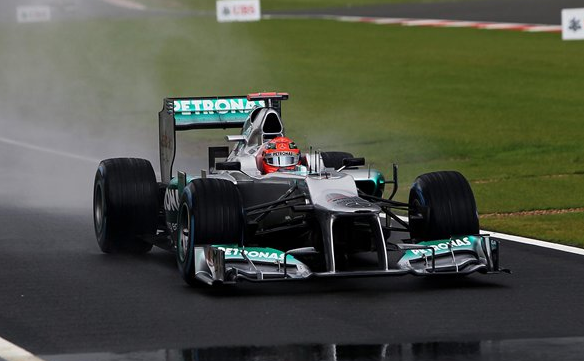 After his breakthrough performance at the European Grand Prix two weeks ago, the disappointment seems to have turned into big expectations for Michael Schumacher. No big deal, it seems, as the Mercedes AMG Petronas driver qualified for P3 on the grid when the British Grand Prix gets under way in around an hour.
Getting a victory is definitely not out of the question today at Silverstone, but Schumi will face a tough challenge as Ferrari's Fernando Alonso starts at pole position and Red Bull's Mark Webber just a spot below.
"We were competitive on both the intermediate and wet tyres, so I would welcome more rain tomorrow," said Schumacher. "Third position is a good starting point for the race—I'm looking forward to it."
Schumacher's teammate Nico Rosberg will start at eleventh on the grid. He actually finished at 13th but got bumped up two spots because of penalties to Force India's Nico Hulkenberg (gearbox change) and Sauber's Kamui Kobayashi (Valencia incident).
We'll give you the lowdown on the action right after the race, so be sure to check back with us later! Hopefully, we'll be reporting a Mercedes win by then.