Ryan Joseph Ramos
July 4, 2012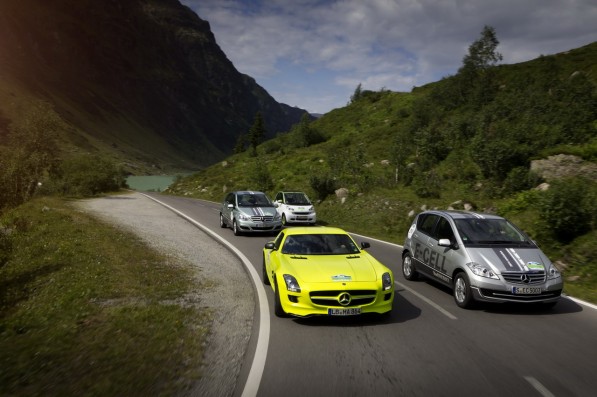 When the 3rd Silvrette E-Car Rallye kicks off this July 5 at Montafon, Austria, Daimler will be sporting the largest contingent of cars with 7 cars powered by batteries or fuel cells.
The Daimler lineup includes proven vehicles and units that will be competing at the event for the first time. The veterans are a couple of Mercedes-Benz A-Class E-CELL units, two B-Class F-CELL units, and an SLS AMG E-CELL. Rounding out the roster are the newcomers: two smart fortwo electric drive units. The electric supercar SLS AMG E-CELL will be manned by former F1 driver and AMG brand ambassador Karl Wendlinger.
The Silvretta E-Car Rallye will commence through 3 days in the Montafon region's mountains. Unlike other races, the winner in the event is not decided by speed alone (if that were the case, the SLS AMG E-CELL should emerge the runaway winner). Uniformity as well as skill are given top priority over the 330-kilometer course. There will be a series of trials apart from conquering the demanding landscape during one day.
Aside from the four-wheel vehicles, Daimler will showcase the smart eBike, too.