Ryan Joseph Ramos
July 27, 2012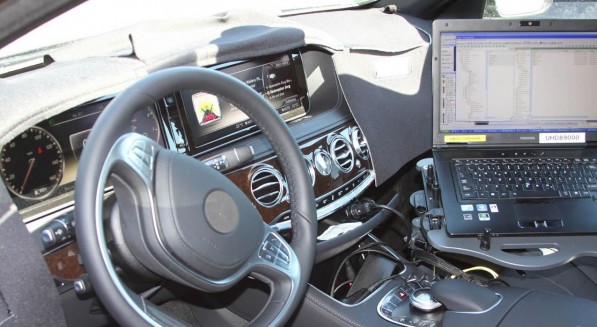 Bit by bit, we're seeing the next-generation Mercedes-Benz S-Class in its entirety. This latest crop of spy shot photos show not just a very minimally shrouded vehicle, but also some snaps of the fine interior.
We've already covered some of the exterior details in previous posts, but what's interesting here is the interior furnishings. You'll notice the redesigned steering wheel on this baby, along with some nifty details that are surely looking good. You've got the finish on the dash, complete with bezeled components. There are also fairly large LCD displays on the console. The styling is certainly a fusion of classic and modern Mercedes-Benz design, and should appeal to fans and prospective buyers.
The two-spoke steering wheel is different from the common four-spoke variant, and it's got an elegant feel to it highlighted by the chrome as well as the buttons off to the side. We also see some minimalist gauges behind the wheel, helping accent the overall aesthetic of the interior while maintaining maximum functionality.
Anyway, enjoy the photos over at the gallery below.