Ryan Joseph Ramos
June 24, 2012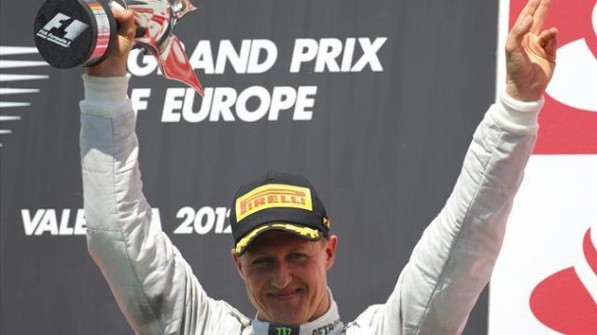 All things finally fell into place for Michael Schumacher, at least for one race. The German, who has struggled since his comeback, finally took a podium finish by nabbing third place at the 2012 European Grand Prix, boosting Mercedes AMG Petronas's bid in the constructors standings and lifting Schumacher's own dismal personal record so far this season.
Ferrari's Fernando Alonso took the victory in a race filled with incidents, not the least of which was the one that took out Lewis Hamilton and Pastor Maldonado, who were then contesting P2. This opened things up for the rest of the pack, particularly Schumacher. Alonso, who started at 11th, now breaks the string of 7 straight races with 7 different winners and also adds to his lead in the drivers standings. Lotus's Kimi Raikkonen finished second.
Schumacher started from 12th on the grid after a lackluster qualifying session. But with all the incidents knocking out key players like erstwhile leader Sebastian Vettel and forcing some key safety car appearances, Schumacher took advantage and finally got a podium finish since returning to Formula One in 2010.
"I didn't think about a podium, not even at the end of the race," Schumacher said. "At the end I asked the guys where we finished and the boys told me that's third. I can't believe that, I didn't expect it."
Rounding out the points finishers are Red Bull's Mark Webber (4), Force India's Nico Hulkenberg (5), Mercedes's Nico Rosberg (6), Force India's Paul di Resta (7), McLaren's Jenson button (8), Sauber's Sergio Perez (9), and Williams' Pastor Maldonado (10).