Kharl Prado
May 17, 2012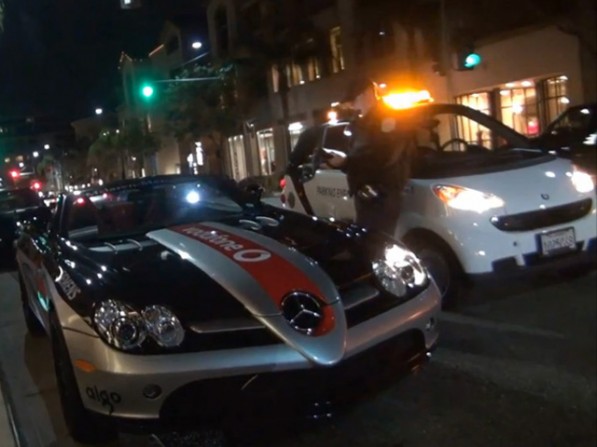 This is embarassing. Imagine scooting around town in your badass Mercedes-Benz SLR McLaren only to end up being handed a parking violation ticket by an officer driving a Smart car.
In case you're wondering, a new SLR McLaren held a price tag of just over half a million dollars during its time. It seems the wealthy owner, self-titled "Prince of Germany", was simply begging to get caught by displaying his ride in the wrong place at the wrong time.
The officers just happened to be driving along Beverly Hills, California in their Smart Fortwo when, lo and behold, there sitting in a no-parking zone was the 617hp supercar dressed up in Hugo Boss and Vodafone decals.
Too bad the SLR McLaren's AMG-tuned V8 engine was rendered helpless right beside the Fortwo whose 1-liter 3-cylinder inline engine hummed silently in mockery.
So remember folks, whether you're driving around town in an SLR McLaren or SLS AMG, make sure you park it properly ayt? Now check out the video.
Mercedes-Benz SLR McLaren is a sitting duck
Source:
inautonews.com