Ryan Joseph Ramos
May 11, 2012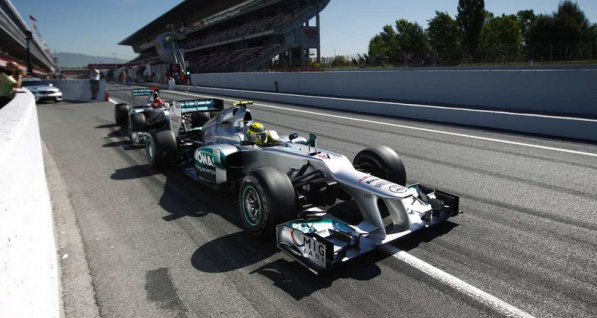 It's been a long wait for the resumption of Formula One action, but this weekend will bring a lot of excitement when the European leg of the 2012 season starts at Barcelona. Mercedes AMG Petronas delivered a strong showing in Friday practice, with both Michael Schumacher and Nico Rosberg building some momentum from the team's testing at Mugello and then getting excellent results at the Circuit de Catalunya.
Schumacher was great in Practice 1, notching sixth place at 1:25:187, while Rosberg was a mere 14th with 1:25:607. Rosberg was much better in the second practice session, finishing third with 1:23:771, just behind Jenson Button and Sebastian Vettel. Schumi's 1:24:080 was good for eighth.
Rosberg acknowledged that, while there were a ton of positives, there are still some challenges and 'question marks' heading into qualifying and then into the race. "Tyre management will be a big challenge again this weekend, and that will be the key for success," he said.
"The way it worked out for us today demonstrated that the testing we did in Mugello was worth it," Schumacher added. Bob Bell, the technical director for the team, also chimed in. "The practice sessions went reasonably well for us today, and certainly the new parts that we have here this weekend worked as expected with no reliability issues."
Qualifying should be exciting, with all the teams putting in an extra gear in their efforts to kick of this leg with positive results. Mercedes AMG Petronas, though, would be without Ross Brawn, who will sit out this Grand Prix because of health concerns. He is, however, slated to be back for the Monaco Grand Prix.