Ryan Joseph Ramos
May 26, 2012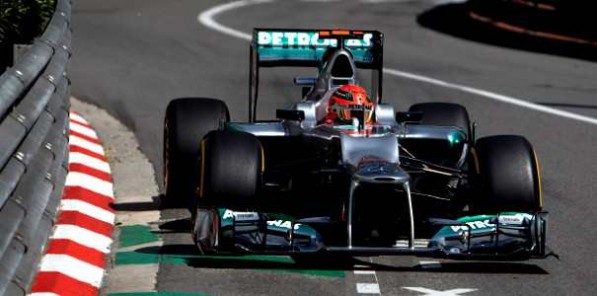 After his stellar performance in qualifying for this year's edition of the Monaco Grand Prix, Michael Schumacher expressed that his desire to pay Mercedes back figured in his determination to gain a good qualifying result even with a 5-place penalty knocking him back to P6 once the actual race starts.
"I want to pay back to Mercedes for all the trust they've put in me," said the 43-year old 7-time Formula One champ, who has struggled all season long but looks to make a big splash at one of the most anticipated races of every F1 season. "Let's hope it is payback time on Sunday afternoon."
When asked about his mindset heading into qualifying, Schumacher dismissed any notions of him viewing the penalty as a major setback. He said he entered Saturday already thinking of starting at P6, showing some confidence not only in himself but also in the MGP W03 that has so far been disappointing this season.
"I already said before I came here that I will start from P6, so it was clear for me that I would clock the pole time!" Schumacher added: "I don't chew on things that I cannot change – and the five places were an unchangeable reality."
That's certainly something coming from a man who has won a lot of races. Who knows—maybe we'll see a Schumacher podium today. Of course, don't forget to check Nico Rosberg, who will start at P2.