Ryan Joseph Ramos
May 15, 2012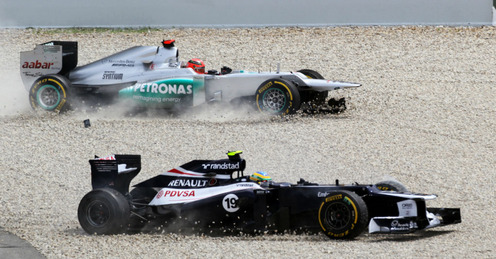 If you watched the 2012 Spanish Grand Prix last weekend, chances are you saw a disappointing end to Michael Schumacher's race when his MGP W03 collided with the back of Bruno Senna's Williams. Now, the verdict is out, and the race stewards have given Schumi the unpleasant reward of a 5-place grid penalty at the Monaco Grand Prix in two weeks.
This penalty was given once the stewards reviewed the footage of the collision on lap 12 of the race and deemed it was caused by the German seven-time F1 champion for Mercedes AMG Petronas. Schumacher had claimed that it was Senna's fault, but Senna countered and obviously the stewards felt the same about the incident.
After the collision, Schumacher could no longer continue. Senna was able to get a bit more distance on his crippled FW34, but the damage had been done and he retired as well.
A five-grid penalty doesn't seem too much for a former champion—Lewis Hamilton blitzed from the back of the grid to eighth place in Barcelona—but it's definitely going to put some more pressure on Schumacher and on the team. Mercedes will have to kick it up a notch and Schumacher will have to have a great qualifying so he won't have to start too far back on the grid.