Ryan Joseph Ramos
May 16, 2012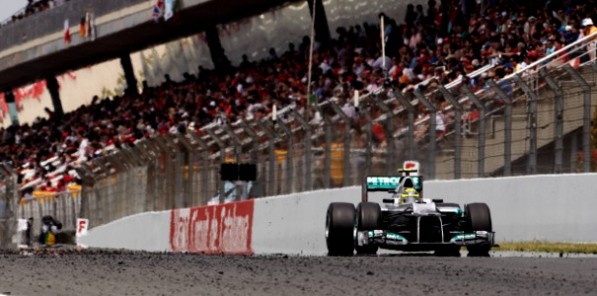 The Spanish Grand Prix was a difficult one for Mercedes AMG Petronas; Michael Schumacher retired after a lap 12 collision with Bruno Senna (and subsequently penalized for Monaco), and Nico Rosberg lost fifth place near the end after some tire problems. Still, Rosberg says the championship is right there within his grasp.
The thing is, with Pastor Maldonado claiming his maiden F1 victory last weekend, many of the other title contenders did not gain much headway in the standings. Fernando Alonso's second-place finish allowed him to tie Sebastian Vettel at the top. Both have 61 points, and while Rosberg is at seventh right now, it is a mere 20 points behind the leaders.
Here's what Rosberg said: "I only lost two points on the championship lead, which is good, and I'm still only 20 points away, so it's still open as long as we can really now push on and improve."
Five winners in five races—it's something not seen in Formula One since 1983, and the standings are close. Consistency is the key to winning this season, and Mercedes AMG Petronas simply has to continue to push and keep the car in line, waiting for one or two more race wins that can put Rosberg over the top. It's not a farfetched idea, as seen in Rosberg's pole-to-pole win in Beijing earlier this season.
"It's just very difficult at the moment to understand how the next race is going to be," said Rosberg. "We'll have to wait and see." Hopefully, he and Schumi can improve on what appears to be a terrible Spanish Grand Prix for the team. Everything's up in the air for Rosberg and Mercedes, which is currently fifth in the constructors' championship race.