Ryan Joseph Ramos
May 16, 2012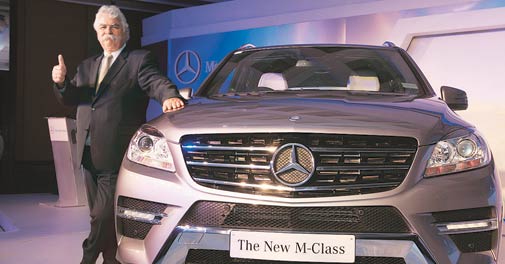 The third generation of the Mercedes-Benz M-Class SUV was launched recently in India, and it comes with exciting news that the vehicle will be priced some 15 percent less compared to the last iteration seen in the country. This allows the German automaker to be competitive with the prices offered by BMW and Audi for vehicles in the same segment.
BMW has managed to leapfrog Mercedes-Benz for the lead in India's luxury car market, and the latter is already at risk of losing the second spot to Audi. The repriced M-Class line should help contribute to Mercedes-Benz's efforts to regain the lead in this market.
"We are confident that the quality drive and the luxurious experience it can deliver will be a big hit with the customers and it will be warmly received," said Peter Honegg, the managing director and CEO of Mercedes-Benz India.
The M-Class has had a strong showing in India since it was introduced to that market in 2008. Over 1,500 units have been sold, and the third-gen model should continue to add to that figure. In addition, there are 100 units of the AMG variant set to go on sale—although those have already been presold.
"We expect to become number luxury sellers of luxury cars in India by 2020, the growth will get a boost when the compact models enter the Indian market," added Honegg.