Ryan Joseph Ramos
May 27, 2012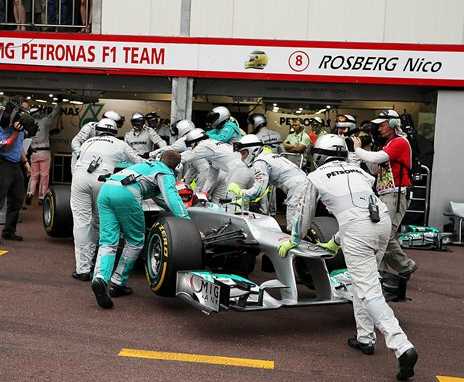 The 2012 Monaco Grand Prix ended well enough for the Mercedes AMG Petronas team, with Nico Rosberg finishing on the podium in front of his home crowd. However, qualifying pacesetter Michael Schumacher wasn't able to finish the race after new problems surfaced with his car.
Rosberg was ecstatic. "It's a fantastic feeling to be on the podium at my home race in Monaco today in front of all my family and friends. The team have done a really good job this weekend to get the car working so well.
"Although we thought this track would suit our car, it's been better than we expected. I had a clean start but Mark drove a very controlled race today. I could keep in touch with him but we all know how difficult it is to overtake around the streets here and there just wasn't a way past." True enough, the top six finishers were all within 3.1 seconds of each other.
Schumacher, on the other hand, maintained that his incident at the start with Romain Grosjean was unrelated to the fuel pressure problems that surfaced in the latter laps of the race. He described it as "doubly disappointing" but remained hopeful for the next race.
"I will take the boost from the high points of this weekend with me to Canada. The track should suit us and I'm hoping to have a normal, clean race."