Ryan Joseph Ramos
April 30, 2012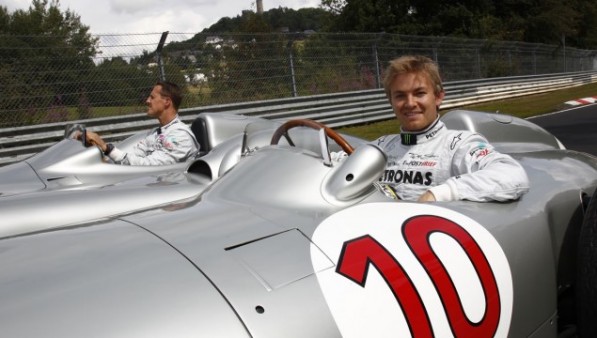 While there won't be a Formula 1 race until May 13, Mercedes AMG Petronas drivers Michael Schumacher and Nico Rosberg will join the brand's entrants for the 2012 opener of the Deutsche Tourenwagen Masters season as they demo a couple of Silver Arrow cars old and new.
Rosberg, who scored the first pure Silver Arrow F1 win in over five decades when he won the Chinese Grand Prix two weekends ago, is demonstrating a Mercedes-Benz W196 car from 1955—the same model that Juan Manuel Fangio drove to victory at the 1955 Italian Grand Prix. Schumacher, meanwhile, will demo the MGP W02, which was used by the team in last year's Formula One events.
"I am absolutely delighted to be returning to Hockenheim as a Grand Prix winner," said the young German. "Last year, I was able to drive a classic Silver Arrow on the famous Nurburgring Nordschleife, so now I'm really looking forward to climbing into the cockpit of Juan Manuel Fangio's phenomenal W196 streamliner from Monza in 1955 and driving a few laps at Hockenheim."
Rosberg demos is scheduled for Saturday, while Schumacher is set for his on Sunday.