Ryan Joseph Ramos
April 27, 2012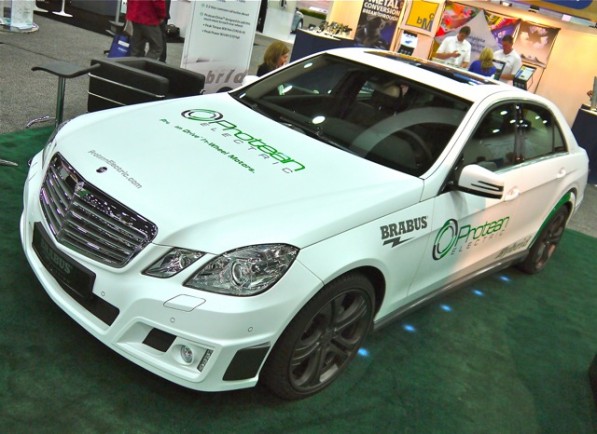 Electric drive company Protean Electric displayed what it calls the "Technology Project Hybrid" at the 2012 Society of Automotive Engineers World Congress held in Detroit. The car uses a Brabus Mercedes-Benz E-class that comes with a 2.2L turbodiesel engine and a manual transmission. What makes the car special are the Protean electric motors that have been fitted into the rear wheels of the car.
The vehicle makes use of Protean Electric's patented in-wheel system called Protean Drive. These electric-drive systems are designed to provide vehicles with increased power, more torque, improved handling, and of course, much better fuel economy. The electric motors each produce 110 horsepower along with 590 lb.-ft. of torque, allowing the hybrid to go from 0-62mph in just 7.4 tics.
According to Protean, the boost that is gained from the electric motors should be good for up to a 30 percent increase in fuel economy. Neither Brabus nor Protean have released detailed info on the size or the weight of the battery packs, but Protean representatives said that the weight of the motors can be offset with the tweaking of elements like struts, mounts, and springs.
These in-wheel motors don't come cheap, though—it is estimated that the motors would add about $50,000 to the price tag of a normal Brabus E-Class.