Kharl Prado
April 30, 2012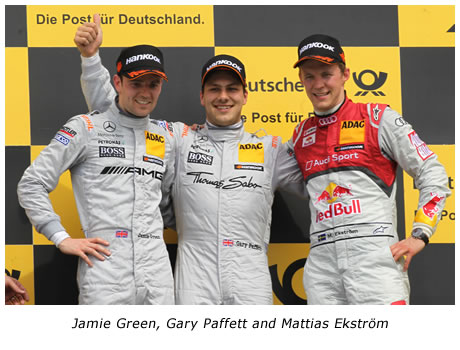 In a brilliant display of racing supremacy, Mercedes-Benz driver Gary Paffett stunned an audience of 71,000 at Sunday's DTM race season opener by beating drivers from rival German manufacturer teams BMW and Audi.
Despite a slight mishap at the start of the race and multiple brushes with other cars, 31-year-old Parfett shows he's got the right attitude and skills to beat everyone else, including his teammate Jamie Green, to the chequered flag.
It's Parfett's 18th win since racing in DTM and his fourth win on the Hockenheim track. He says that "last year was really bad for me. Nevertheless, I didn't lose my self-confidence. Great, the way it has started now. At the start, I managed to stay out of traffic and the duel with Jamie was really fair."
Parfett now has the most number of racing victories among all current drivers in DTM. His victory gives Mercedes-Benz its sixth race win at home and its third straight win during a season opener. The team now has 32 wins out of 65 races at Hockenheimring, and 166 wins out of 343 races in total.
Audi's Mattias Ekström took third place despite starting in pole position and leading the pack for five laps before a braking error allowed the two Mercedes-Benz drivers to put him behind.
"A great result. Our team has done the best job," Mercedes-Benz Motorsport boss Norbert Haug says. "The result in qualifying wasn't fantastic, but in the race, we were able to show a great performance. Victory is the best reward one can get. The duels by Jamie Green and Gary Paffett were motor racing at its best. It was a very good race."
Here's to hoping this is a taste of things to come for the Mercedes-Benz DTM Team.
Source:
sportscarillustrated.com