Clarissa
February 2, 2012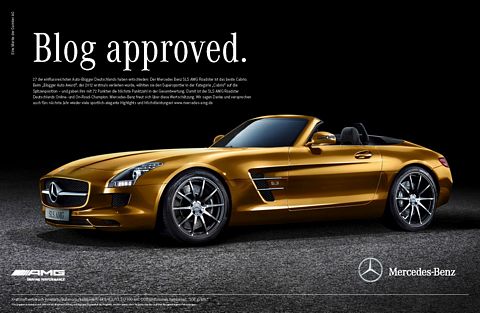 In the Auto Blogger Award 2012, the SLS AMG Roadster Convertible was voted as the best car in the convertible category.
About 27 auto bloggers casted their vote on the Merc with the 571HP output, giving out a total score of 72 points, which also happens to be the highest point that a car has received in the awards. It was followed by the Audi R8 Spyder with 42 points, then the Porsche 911 in the third.
The other categories are mini cars, small cars, compact cars, middle class, luxury, sports, convertibles, SUVs and cans. In which the Mercedes A Class won 2nd for the compact category, the Mercedes C-Class 2nd, for the middle class. The E-Class in the upper middle class, Mercedes G-Class for SUV, Mercedes Viano for vans placed 2nd too. Over-all, Mercedes-Benz brand won the 2nd place for the Manufacturer's Championship.
Source: Blogger Auto Award