Clarissa
December 1, 2011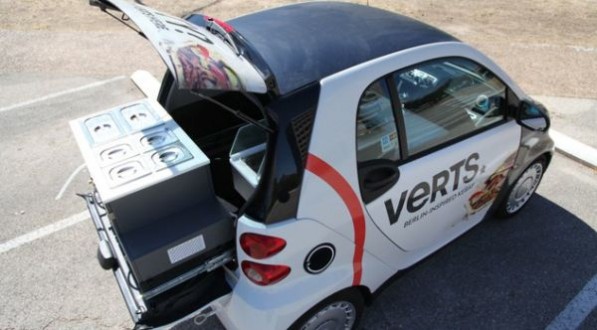 Dubbed as the world's smallest food truck, this innovation is a made in a smart car. The business which sells German sandwich in Austin, Texas was started by Michael Heyne and Dominel Stein, exchange students from Germany who wants to put their country's delicacy on the map of the "Live Music Capital of the World".
The sandwich called Doener Kebaps is now becoming popular in the city. And why not when they are not only selling delicious meals, but they are also rolling on smart car. Despite the fact that mobile food carts are not new anymore, this one became a hit because it is the David in the midst of Goliaths. In the industry dominated by trailers, this new concept surely attracted attention.
You wouldn't believe it but the smallest food truck has food container assemble, power unit for food warmers, refrigerator and sink. All these were custom-made for them by Frenzel, a German company who build customized coaches.
The mini "restaurant" currently have a limited menu, perhaps because of its size. They get their supplies from a large restaurant, meaning after being able to sell 50 sandwiches, they have to go backl to the restaurant to get more supplies. That's just the downside of it, but who knows what these two Germans can do in the future.