Emmanuel P
November 3, 2011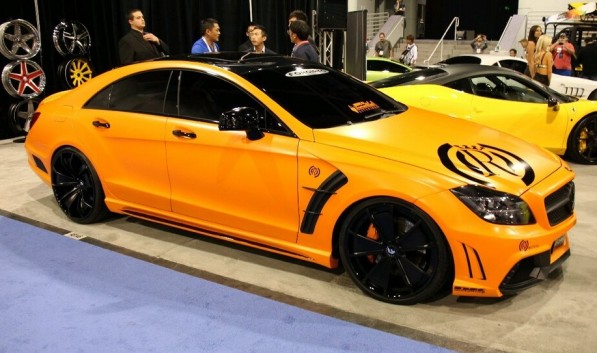 A couple of weeks ago, we presented to you Wald's rendition of the outgoing R230 Mercedes SL. At the ongoing SEMA show, Japanese tuner Wald has on its stand a radically-colored Mercedes with an aesthetic treatment similar to that on the R230 SL.
As with the R230 Wald "Black Bison", this special CLS features a revised front fascia, new skirts and vented fenders. The back end also features rear vents on the lower part of the fenders, a roof and deck spoiler, and a diffuser with oval-tipped staggered tailpipes peeking out from the diffuser area. Complementing the more aggressive aerodynamics are a set of black Forgiato wheels which provide a contrasting color to the orange calipers residing behind the wheels. And speaking of orange, the entire car has been treated to a matte orange color, which screams for attention from the SEMA show attendees.
True to form, Wald has not touched the mechanicals of the car and has chosen to focus on making the CLS more radical via aesthetic treatments.