Clarissa
November 9, 2011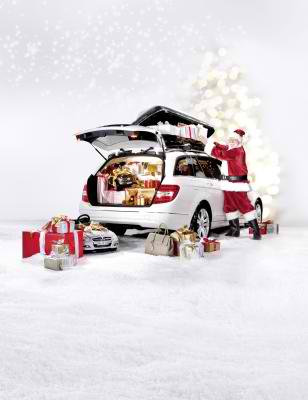 Are you looking for the perfect Christmas gift for your boss? Or do you want to wow some friends with what you are going to them for this season? Then, an item or two from the Mercedes-Benz Collection will impress them.
Made by well-known producers of products, these items have the Mercedes-Benz emblem, which tells of its premium status.
For your boss, you might want to take a look at a calfskin wallet and ballpoint pen with a twist mechanism plus a 3D version of the star on the cap. Another one is a leather organizer with the metal AMG logo and diamond stitch. How about a red tie made of 100% silk. Surely, these items will please anyone.
For your lady friends, you can give elegant wristwatches with swarovski elements. The item is also available for men, though. For your kids, you can get the electric version of the SL. Made by Toys Toy, this pedal car will surely make your little ones squeal in delight. You may also give them a washable teddy bear, a pull-back friction model of the 300 SL, images of modern classic vehicles, and wall hooks with SLK and SLS' silhouettes.
Other items like espresso cups, 300 SL shaped gearshift knob for wine and champagne bottles, scented candles, 2012 desk calendar, Samsonite suitcase and 1:43 scale metal-cast replicas of the patent motor car of Benz and the E-Class coupe are also available to be purchased.