Clarissa
November 4, 2011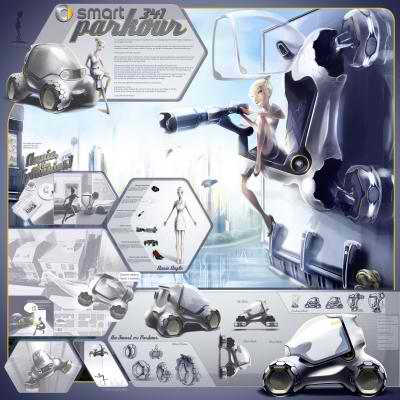 Imagine Mercedes-Benz Silver Arrow brought to life. Then smart cars climbing the facades of skyscrapers and Maybach as the luxury carriage of Cinderella. Well, you can see all of that – in the 2011 Los Angeles Design Challenge at least.
Silver Lightning : Mercedes-Benz Silver Arrow
The film is set in the near future, starring two crash test dummies who will try to save Mercedes-Benz Silver Arrow from the hands of the evil Dr. Crash Barrier. They will be engaged in action packed scenes until of course, the Silver Arrow is saved.
Cinderella: Maybach Berline
Sindelfingen, Germany's designers made the Maybach car as a luxury carriage with full suspension from the 17th century. This will be for the remake of the lovable movie, Cinderella.
Annie : smart 341 Parkour
The plot is the film "Annie get the Grannies". In this story, Annie Angle read a newspaper about the incredible robots that disappeared. She set off, with a camera, to investigate her smart 341 Parkour.
The challenge is trying to find the greatest film car for Hollywood and of course, Mercedes-Benz Advanced Studios in Germany and Carlsbad, USA joined screenwriters for this project. It is a part of the Los Angeles Design Conference which will happen on November 16 to 17 at the Los Angeles Auto Show.