Muamer Hodzic
March 2, 2009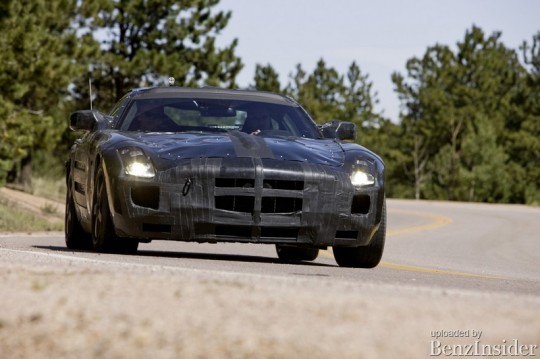 You don't see this everyday – high resolution promo pictures of a test mule in heavy camo. Mercedes-Benz has decided to shell some light and release official details of their upcoming replacement to the SLR – the SLC Gullwing. Nope scratch that, it will actually be called the Mercedes-Benz SLS AMG.
The SLS (Gullwing) will be smaller than the outgoing SLR, which in addition to the all-new aluminum space frame contributes to a weight of just 3,571 lbs, a full 300 lbs less than the SLR McLaren. The SLS wheelbase will be 105.5-inch; the front track will be 1.2 inches wider than the rear. The Gullwing will be powered by a 6.2 liter V8 pumping out 563 hp at 6800 rpm and 479 lb ft of torque at 4700 rpm. It will have a 7 speed dual clutch gearbox, a Race Start launch control function, which will propel the SLS from 0-100 km/h in a respectable 3.8 sec. Top speed will be around 196 mph, oh and for those planning on stopping from that speed, they'll be helped by 15.4 in discs in front squeezed by six piston calipers and 14.2 inches in the back with 4 piston calipers – carbon ceramic rotors are optional.
The Mercedes-Benz SLS (aka SLC Gullwing) price has not been announced, but according to Autoblog.com, we can expect to see a price tag of $200k.