Muamer Hodzic
February 26, 2009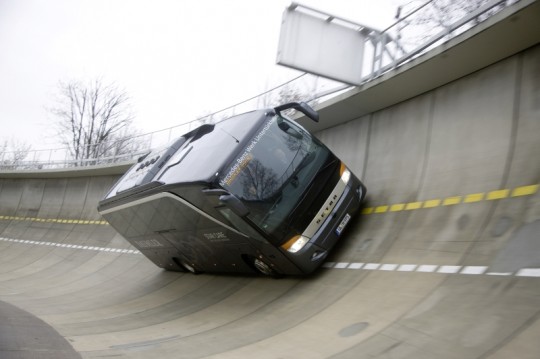 Visitors to the Daimler test track in Unterturkheim are now carried in a Setra S 411 HD. The 10 meter long touring coach from the TopClass 400 series is even able to negotiate the high-speed vertical curve thanks to its compact dimensions and short overhangs. At a speed of 100 km/h, passengers are subjected to centrifugal forces amounting to twice their own body weight on this curve – a very novel experience. The vehicle is powered by an OM 501 LA V6-engine developing 300 kW (408 hp).

Star Care e. V. supports needy children in the Stuttgart region
The attractive "helping hands" emblem on the shell-grey touring coach was created by the Setra Design Center in Neu-Ulm, and identifies the vehicle as one operated by the Star Care charity organisation. Star Care is an initiative by employees of Daimler AG and several partner companies (www.starcare.de). The association supports social projects for sick and needy children in the Stuttgart region, for example with school meals or medical technology for the child oncology unit of the local Olga Hospital.
Purchasing a model of the S 411 HD supports Star Care
The new visitor bus is also available as a model. Purchasing the 1:87-scale collector's model enables anybody to support Star Care, as five Euro of the purchase price goes to Star Care e. V. in Stuttgart. The model is available from the Online Shop at www.setra.de and costs 19 Euro.