Chris
February 7, 2009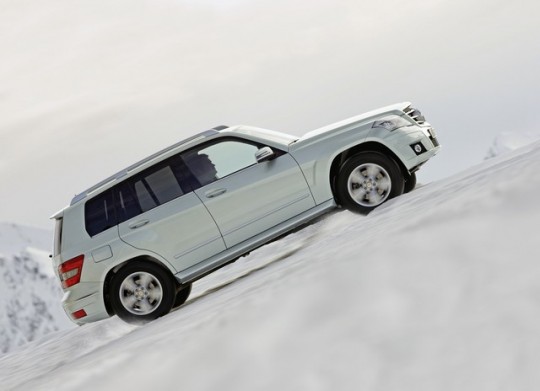 Whoever thought that the economic fortunes of the U.S. and Canada were linked would be puzzled by the fortunes of Mercedes-Benz north and south of the 49th parallel.
While January sales plummeted by an horrific 42.9% compared to January 2008 in the U.S., sales for the same period in Canada grew by 10.3%.
The importance of all this may be insignificant for the Mercedes-Benz hierarchy in Germany, given that the U.S. market is nearly 10 times larger than Canada, but maybe the Canadian success story might help to lift the gloom a little.
The 2010 GLK got off to a very good start, and the E-Class continued to sell well. The E-Class is great value right now – it comes with many options as standard that were previously part of expensive packages, and if you don't like the new-2010 E-Class, now is the time to buy the outgoing model.
Press release in full after the break.
February 3, 2009
Mercedes-Benz starts the year with a new sales record
TORONTO, ON (February 3, 2009) – Mercedes-Benz Canada reported today that a total of 1,178 Mercedes-Benz vehicles were delivered to customers in January, representing a 10.3% increase compared to January 2008 and the best January ever for the Mercedes-Benz brand. In addition, smart reported 90 vehicles sold throughout the month, pushing the total Mercedes-Benz and smart combined units registered to 1,268.
Very strong B-Class, C-Class, E-Class, GLK-Class and M-Class model sales contributed to January's success. With 237 units delivered to customers, the all-new 2010 GLK-Class was an exceptional seller in the first month that it was available in Canada. The C-Class also continued its impressive run, with 432 units retailed throughout the month of January.
Overall, the luxury light truck side posted impressive growth; ahead 88.1% compared to January 2008. The diesel sales ratio was 36.8% for the month, while permanent all-wheel drive 4MATICâ"¢ units accounted for 77.9% of the overall passenger car and light truck sales (excluding smart).
On the pre-owned side, the company reported 426 Mercedes-Benz units delivered for the month of January.
"I am proud to see that our customers recognize the unmatched value, safety and prestige offered by Mercedes-Benz vehicles," said Marcus Breitschwerdt, President and CEO of Mercedes-Benz Canada. "Continued strong sales of the B-Class, C-Class and E-Class, and outstanding sales of our exciting range of premium SUVs, which has been further strengthened with the launch of the GLK-Class, shaped our sales story for this first month of 2009."