Chris
January 6, 2009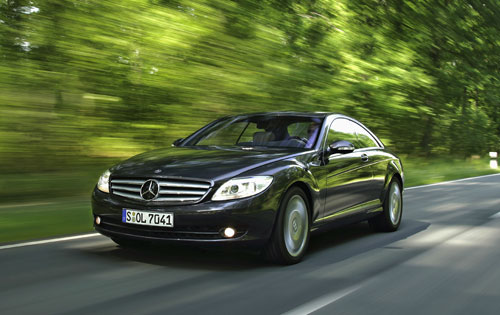 Amid the doom and gloom affecting Mercedes sales in the United States, it isn't all bad news in North America. Sales in Canada for 2008 were simply superb – an increase of 30% for Mercedes-Benz, smart, AMG, SLR and Maybach combined. Although the economy here has not tanked as badly as in the U.S. it is still an incredible effort to have increased sales, and by such a huge margin. As each month's figures were published I expected to see sales fall away, but it just did not happen.
Sales for December 2008 were also impressive compared to the U.S. They increased 12.5% compared to December 2007 for Mercedes-Benz vehicles.
Press release in full after the break.
January 5, 2009
Mercedes-Benz Canada shatters numerous all-time sales records and reports 2008 to be the company's best year ever with deliveries exceeding 24,000 units
• Best year ever Mercedes-Benz and smart combined sales with 24,117 units delivered
• Best year ever Mercedes-Benz sales with 20,368 units delivered, surpassing the 20,000 unit mark in Canada for the first time in the company's history
• Best year ever Mercedes-Benz passenger cars sales with 15,293 units delivered
• Best year ever Mercedes-Benz light trucks sales with 5,075 units delivered
• Best year ever pre-owned sales with 6,879 units delivered
Toronto, ON – Mercedes-Benz Canada reported today multiple all-time sales records for 2008 including its best full-year sales results ever with 24,117 units sold. This represents 5,570 additional units over the previous year, and an increase of 30.0% for combined Mercedes-Benz, smart, AMG, SLR and Maybach vehicles delivered this year.
Mercedes-Benz vehicle sales were up 4,254 units in 2008; a 26.4% gain which also amounted to an exciting best ever year-end total of 20,368 units. Passenger car sales also reported their best year ever with 15,293 units; accounting for 1,259 more units or an improvement of 11.7% over last year. The second generation smart fortwo was launched in December 2007 and a total of 3,749 fortwos units were sold since then; up 1,316 units, or 54.1%.
In December, a total of 1,588 Mercedes-Benz and 150 smart fortwos were registered. This was a 12.5% gain from December 2007 for Mercedes-Benz, and a progress of 4.9% on a combined brand basis.
On the luxury light truck side, the M-Class, R-Class and GL-Class continued to do exceptionally well in December. These SUV's reported a 46.0% gain for the month and finished the year 23.1% ahead with a total of 5,075 units delivered in 2008.
Pre-owned sales in December were tallied at 433 units. This brought the 12 month total to 6,879 units, up 8.4% from last year which also made it a record-breaking year for pre-owned Mercedes-Benz sales in Canada.
Overall, 2008 was another banner year for Mercedes-Benz Canada, and the consistent story was monthly sales records. The company's continued sustained momentum can be partially attributed to the exciting range of segment-leading vehicles that offers customers unmatched value across the entire product portfolio. The year registered some important milestones including the launch of the new facelifted SLK-Class, SL-Class, and CLS-Class, the refreshed B-Class, and the introduction of the ML320 BlueTEC, R320 BlueTEC, and the GL320 BlueTEC models. BlueTEC's cleanest diesel technology continues the company's long and successful history with diesel, and offers customers 20 to 40 percent greater fuel efficiency than a comparable gasoline engine while still complying with the strict North American BIN5 and ULEV emissions.
The success of the all-new C-Class continued throughout 2008; more than 7,600 units were reported sold which by far eclipse any Mercedes-Benz individual Class record sales to date by a huge margin. The sporty and versatile B-Class also enjoyed record breaking sales with 3207 units, and the luxurious E-Class posted impressive sales results for the year. The flagship S-Class continued to outsell all of its competitors and rule in its respective segment, the CL-Class remained buoyant and the legendary SL-Class closed the year 39.2% ahead of 2007, allowing Mercedes-Benz to clearly maintain its significant lead in the high-end luxury category.
Mercedes-Benz luxury light truck sales continued to expand in Canada, and were up a notable 23.1% for the year. R-Class deliveries remained strong, and M-Class and GL-Class sales grew 31.1% and 22.7% respectively for the year. Diesel SUV sales totaled 3,449 units in 2008. The exciting roster of Mercedes-Benz light trucks will be further enhanced with the launch of the GLK-Class in early 2009 as a 2010 model. The GLK350 4MATIC will offer customers the perfect balance of style, versatility and performance with a powerful 3.5-litre, 268 horsepower V6 engine and generous list of standard safety and convenience features.
Mercedes-Benz models continued to earn numerous prestigious awards throughout the year. At the Automobile Journalists Association of Canada's (AJAC) annual Canadian Car of the Year "TestFest", the CL550 4MATIC and SL63 AMG tied for first place in the Best New Prestige Car category while the M-Class BlueTEC diesel was named Best New SUV / CUV (over $60k). Motoring 2008 also named the M-Class SUV / CUV of the Year (over $60k), and selected the S-Class as their pick for Prestige Car of the Year. World of Wheels presented their Editors choice awards to the E-Class, S-Class and CL-Class. L'AUTO 2009 awarded the C63 AMG, E-Class BlueTEC, S-Class, GLK-Class, ML320 BlueTEC and the GL-Class the "Best New" title in each of their respective categories, and also named the BlueTEC clean diesel system their pick for Technology of the Year. L'Annuel de L'Automobile named the S-Class the Best Luxury Car over $100k and the C-Class as best luxury car under $50k.
It was another exciting year for smart. The brand celebrated its tenth year anniversary since its global market launch and its 4th successful year in the Canadian marketplace. Natural Resources Canada presented the smart fortwo an ecoENERGY for Vehicles award for being the most fuel efficient vehicle in the two-seater category. smart also continued its Test Drive Tour in Eastern Canada with a three city program in Qu©bec, Montreal and Ottawa.
The award-winning 4MATICâ"¢ permanent all-wheel-drive system was added as standard equipment to the CL550 4MATIC for 2009, replacing the rear wheel drive model. Now available in four passenger car Classes (C-, E-, S-, and CL-Class), and across the entire luxury light truck vehicle range in all SUV classes, (M-, R-, GL-, G-Class, and for 2010 the GLK-Class), the 4MATICâ"¢ system offers drivers maximum confidence and handling control by delivering optimal traction on any road condition. A ratio of 75.6% C-Class, 84.4% E-Class, 93.1% S-Class were sold as 4MATICâ"¢ models. Total 4MATICâ"¢ volume represented 65.6% of overall 2008 sales across all model lines this year, excluding smart. Customer Satisfaction remained a key focus area for Mercedes-Benz Canada in 2008. The Mercedes-Benz Excellence Program was launched in 2007 to maximize an all-encompassing ownership experience for customers, and this important program was continued through 2008 to ensure satisfaction at every level of the corporate and dealership organizations.
Several new dealership facilities were opened including: Duval Mercedes-Benz in Boucherville, QC, Franke Ste-Agathe in Ste-Agathe-des-Monts, QC, Mercedes-Benz Durham in Whitby, ON, M-B Oakville Autohaus in Oakville, ON, and Mercedes-Benz Saskatoon in Saskatoon, SK. In addition, the complete rebuilding and expansion of the flagship Mercedes-Benz Downtown store on Dundas Street East in Toronto was completed. In Vancouver, the Richmond and the North Vancouver dealerships are in the midst of overall facelifts. Construction has also started for the new dealerships of Van Herpt Motors in Kingston, ON, Garden MotorCar in Burlington, ON, and Performance Cars Ltd. in St. Catharines, ON.
President and CEO of Mercedes-Benz Canada, Marcus Breitschwerdt, remarked: "Our whole team looks proudly back at 2008; it was another exceptional year for Mercedes-Benz Canada, but one that will definitely be remembered in the company's history for setting an historic milestone with more than 20,000 Mercedes-Benz vehicles sold. My sincere thanks and appreciation go out to our entire dealer network and to all the employees who worked tirelessly to exceed customer expectations throughout the year in order to achieve these outstanding results."
He adds, "Our entire product lineup continues to be well-positioned in the market and is supported by competitive programs that offer exceptional value for our customers. As 2008 draws to an end and we start another exciting year, I'd like to express my gratitude to all of our valued customers and reiterate my commitment to all existing and potential customers that our focus for 2009 and beyond will be to offer the highest level of customer satisfaction possible in every aspect of the purchase and ownership experience. With our industry leading product portfolio and unwavering focus on excellence at every level, I am truly excited at the prospect for 2009."