Muamer Hodzic
January 27, 2009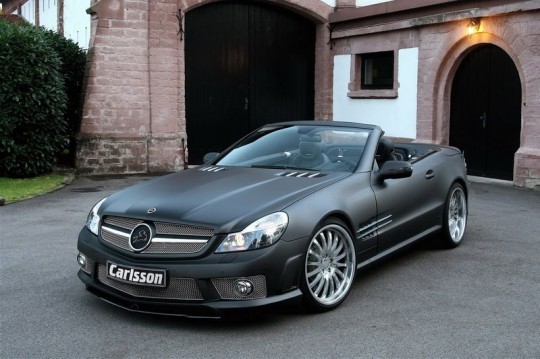 There are lots of Mercedes-Benz specialized tuners out there, but only some have the know-how and the unique touch to actually make the car better than the original. Carlsson is definitely one of the few good ones, and the CK 63 RS (aka SL63 AMG) shows it. Besides the cosmetic changes, the engineers were able to increase horsepower from 525 (386 kW) to 600 (441 kW). Carlsson has strapped on a new aerodynamic body kit as well as upgraded the interior by adding some unique leather upholstery.
It takes the CK 63 RS only 4.1 seconds to get from 0 to 100 (0-62 mph), making it a half second faster than the stock SL 63 AMG. While that might not be a huge difference, the electronically limited max is now at 325kmh compared to the previous 250 kmh. Carlsson also equipped it with its own electronic lowering kit C-Tronic Suspension, which will lower the car up to 30 millimeters.
The color is call "Stealth Titanium Graphite" and its matt finish definitely reminds ones of the a stealth fighter. They also added Lambo or SLR roadster type doors, giving the SL a new look that you won't see on a typical SL-Class nor an AMG version.