Muamer Hodzic
November 12, 2008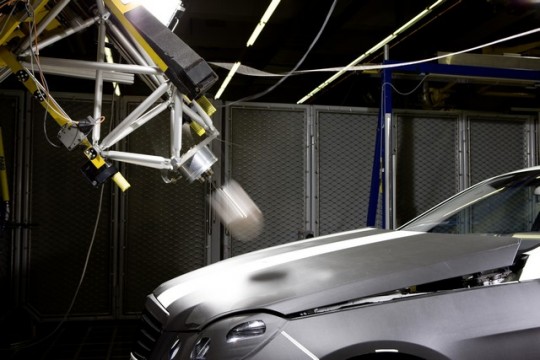 The Mercedes engineers have continued their long-standing commitment to protecting pedestrians by introducing an active bonnet as standard for the new E-Class. In the event of an accident, a system of springs raises the rear section of the bonnet by 50 millimetres within a matter of milliseconds, thus enlarging the deformation zone. The system is reversible and can be reset manually by the driver.

The protection of those road users who are most at risk has always been a top priority during the development of Mercedes passenger cars. Smooth-surfaced bodies, energy-absorbing bumpers, flush-mounted door handles, laminated-glass windscreens, folding exterior mirrors and recessed windscreen wipers are pedestrian-protection measures that have been features of Mercedes models for many years. But, as ever, another top priority for the safety engineers is accident prevention. So systems such as Brake Assist, the cornering light function and Night View Assist play crucial roles. Fitting Brake Assist as standard alone has reduced the rate of serious accidents involving collisions between pedestrians and Mercedes passenger cars by 13 percent.
The additional protective measures Mercedes-Benz has introduced for the new E-Class are based on these high standards. Top of the bill is a newly developed, active bonnet, which enlarges the deformation area and thus reduces the risk of injury to pedestrians. This system, fitted as standard, includes three impact sensors in the front section as well as special bonnet hinges pretensioned and arrested by powerful springs. Upon impact with a pedestrian, the sensors send information to the electronic control unit which, in turn, activates two solenoids in the hinges instantaneously. These solenoids release the arresters so that the rear section of the bonnet is pushed upwards by 50 millimetres by means of spring force. It all takes just a fraction of a second.
As well as being extremely fast, the newly developed technology has a further crucial benefit: the active bonnet is reversible. If the bonnet is released in another type of collision, for example, Mercedes customers can reset it to its original position and, therefore, reactivate the system themselves, allowing them to continue driving.
In addition to this, the Mercedes engineers have increased the deformation space between the bonnet and the assemblies beneath it by raising the saloon's exterior contours and lowering the engine, shock absorber towers, reservoirs and control units. Like all the latest Mercedes models, the front bumper on the new E-Class features a flush, foam-filled spoiler lip which provides a pedestrian with uniform support at an early stage in a collision.