Muamer Hodzic
October 1, 2008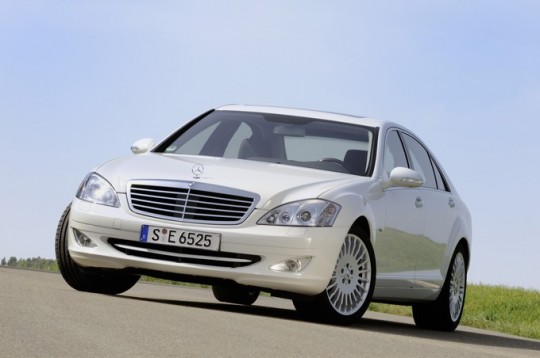 From the end of 2008, Mercedes-Benz will be adding to its range one of the most fuel-efficient and therefore economical luxury saloons around in the form of the new S 320 CDI BlueEFFICIENCY. Effective detailed modifications and advanced technology have lowered the fuel consumption and CO2 emissions of the new model variant by some ten per cent compared to its predecessor, which was itself very economical. Features of the first BlueEFFICIENCY model in the S-Class range include on-demand power steering, an automatic transmission with standstill decoupling, as well as tyres with reduced rolling resistance. All without compromising the high standards of comfort, performance and driving pleasure in any way.
By bringing out the new S 320 CDI BlueEFFICIENCY, Mercedes-Benz is carefully pursuing its strategy for developing environmentally sound premium models that also encompasses the S-Class. The latest variant of the luxury saloon, which is due to supersede the S 320 CDImodel from the end of this year, is more fuel-efficient and, as a result, even more economical than its predecessor. With fuel consumption of 7.6 litres per 100 km (a reduction of 0.7 litres) and CO2 emissions of 199 g/km (a reduction of 21 g), the S 320 CDI BlueEFFICIENCY is set to achieve top marks in the luxury class. Mercedes-Benz has achieved such exemplary economy by incorporating a tailor-made BlueEFFICIENCY package. The package's key components:
The power steering's hydraulic pump that is driven by an electric motor has an on-demand design, meaning that it only builds up pressure when the driver actually turns the steering wheel. This has the effect of reducing energy and fuel consumption when driving for long distances in a straight line – such as on the motorway.

The 7G-TRONIC seven-speed automatic transmission is equipped with standstill decoupling. With this feature, the torque converter interrupts the power flow as soon as the vehicle draws to a stop with the engine running, in much the same way as the clutch on a manual transmission. This eliminates the converter's hydrodynamic resistance, lessening the load on the engine and lowering fuel consumption. Standstill decoupling has the added benefit of reducing noise and vibration levels when stopped, and enables even smoother idling. The slip-controlled clutch engages the instant the driver releases the brake pedal, allowing the vehicle to move off without the slightest delay.

The S 320 CDI BlueEFFICIENCY rides as standard on 17-inch light-alloy wheels shod with reduced rolling resistance tyres, featuring a special carcass construction.
There has been no change in the V6 powerplant's superlative output and torque figures of 173 kW/235 hp and 540 Nm respectively. Thus equipped, the S 320 CDI BlueEFFICIENCY completes the sprint from 0 – 100 km/h in 7.8 seconds and attains a top speed of 250 km/h.
The luxury saloon with fuel consumption and emission figures on a par with a medium-size car can be recognised from the outside by the "BlueEFFICIENCY" badge on the front wings. The S 320 CDI BlueEFFICIENCY sees Mercedes-Benz further extend its line-up of models offering enhanced fuel efficiency and environmental compatibility.
The price for the S 320 CDI BlueEFFICIENCY in Germany is unchanged at €70,864.50 (incl. VAT). The long-wheelbase version costs €78,718.50 (incl. VAT).
Overview of all current BlueEFFICIENCY models from Mercedes-Benz
Model

Output kW/hp

Torque Nm

O -100 km/h sec.

Top speed km/h

Fuel consumption l/100 km

CO2 g /km

C 180 KOMPRESSOR

115/156

230

9.5

230

6.5

156

C 200 CDI

100/136

270

10.4

220

5.1

133

C 250 CDI Prime Edition*

150/204

500

7.0

250

5.2

138

A 160 CDI**

60/82

180

15.0

170

4.5

119

A 150

70/95

140

12.6

175

5.8

139

A 170

85/116

155

10.9

188

6.1

146

B 150

70/95

140

13.2

174

6.2

148

B 170

85/116

155

11.3

184

6.4

152

B 170 NGT

85/116

165

12.4

184

4.9 kg/
100 km (7.3)

135/
175

S 320 CDI

173/235

540

7.8

250

7.6

199
(Petrol fuel consumption), *with manual transmission only, **A 160 CDI Coupe
First Mercedes-Benz S-Class with hybrid drive due out in 2009
This autumn, Mercedes-Benz will also be unveiling its first ever passenger car model with a hybrid drive, the S 400 BlueHYBRID, that will be coming onto the market in summer 2009. The combination of a V6 petrol engine plus a compact hybrid module will make the S 400 BlueHYBRID the world's most economical petrol-powered luxury saloon. It burns 7.9 litres of fuel per 100 kilometres (NEDC) with CO2 emissions of 190 g/km. Mercedes-Benz will further-more be first to market with the lithium-ion high-voltage battery that is to be fitted in the S 400 BlueHYBRID as standard. The Stuttgart-based manufacturer is thereby making a seminal contribution to electrification of the car, with the S-Class once again assuming the mantle of technology trendsetter.