Muamer Hodzic
October 2, 2008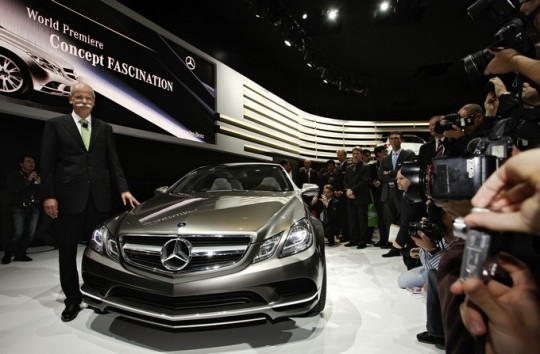 With the world's most economical luxury saloon with a petrol engine, the safest prestige limousine and a fascinating Design show car, Mercedes-Benz presents three exceptional highlights at the 2008 Paris Motor Show. While the new S 600 Pullman Guard and the innovative S 400 BlueHYBRID re-define technology standards in the luxury segment, the charismatic Concept FASCINATION study is the emotional-appeal highlight of Mercedes-Benz' presence at the Motor Show this year at the City on the Seine.
The Concept FASCINATION study interprets the emotional appeal of a coupe with fresh, surprising proportions, combining sporty-elegant design with stylish functionality. "With this exceptional "shooting brake" design we are providing concrete insight into the future Mercedes-Benz design language. Some of the trend-setting features of the Concept FASCINATION will be found in our new models as soon as next year, for example, in our new E-Class" stated Dr. Dieter Zetsche, Chairman of the Board of Management of Daimler AG and Head of Mercedes-Benz Cars.
The world premiere celebrated by the Concept FASCINATION design study in Parissignals both the end and the beginning of two design eras at Mercedes-Benz:
Dr. Zetsche thanked Professor Peter Pfeiffer, hitherto Head of Design at Mercedes-Benz, for his 40 years of commitment and dedication, and greeted his successor, Gorden Wagener. Dr. Zetsche: "for over four decades Peter Pfeiffer and his team, to which Gorden Wagener belonged for years, have again and again
developed exceptional product personalities. In this sense Gorden Wagener stands for continuity and the highest level of competence."
The new S 400 BlueHYBRID – CO2 champion in the luxury segment
Among the technological highlights Mercedes-Benz is presenting at the Paris Auto Show this year is the S 400 BlueHYBRID. Slated for launch in summer 2009, this is the first Mercedes-Benz passenger car with a hybrid drive system. The combination of a modified V6 petrol engine and a compact hybrid module makes the S 400 BlueHYBRID the world's most economical luxury saloon with a petrol engine. The NEDC combined fuel consumption is a mere 7.9 litresper 100 kilometres. This makes for the world's lowest CO2 emissions in this vehicle and performance class – just 190 gramsper kilometre. These exemplary figures go hand in hand with assured performance. The 3.5-litre petrol engine develops an output of 205 kW/279 hp, the electric motor generates 15 kW/20 hp and a starting torque of 160 Nm. The result is a combined output of 220 kW/299 hp and a combined maximum torque of 385 newton metres.
"At 190 grammes per kilometre, the S 400 BlueHYBRID is the CO2 champion in the luxury segment. Our flagship thus assumes the rà´le of technology trendsetter in the electrification of vehicles with internal combustion engine" says Dr. Thomas
Weber, the member of the Daimler AG Board of Management with responsibility for corporate research and development at Mercedes-Benz Cars.
Dr. Zetsche: "the S 400 BlueHYBRID shows that we can indeed reconcile luxury, power, safety and environmental compatibility, disproving the claim that environmental compatibility can only be achieved by small cars. Mercedes-Benz buyers can reduce their CO2 and other emissions without having to "downsize" their dream cars."
S 600 Pullman Guard state limousine with highest protection level B6/B7
With the new S 600 Pullman Guard, Mercedes-Benz is continuing its unique tradition of building large, armoured, prestige limousines. For eight decades now, special-protection vehicles from Mercedes-Benz have served the heads of state of numerous countries, as well as royalty, as automobiles worthy of their standing. The S 600 Pullman Guard offers its passengers effective protection from attacks from the outside. Its Highest Protection status means that it has been engineered to resistance level B6/B7, as tested and certified by state-approved organisations.
The new S 600 Pullman Guard is luxuriously spacious and outstandingly comfortable. To ensure this spaciousness, the wheelbase of the special protection long-wheelbase S-Class was extended by a further 115 centimetres, making it 4315 millimetresin total. It is powered by a twelve-cylinder biturbo engine with a displacement of 5.5 litresand an output of 380 kW/517 hp with an impressive 830 Nm of torque. Its suspension and basic vehicle structure have been modified to cope with the greater weight.
Combining environmental compatibility and a passion for motoring
Presenting two further attractive model innovations in Paris, Mercedes-Benz underscores in an exemplary manner its ability to convincingly blend its motoring passion with environmentally-compatible technology. In the C 250 CDIBlue
EFFICIENCY Prime Edition, a new four-cylinder engine makes its first appearance. The new four-cylinder engine produces 150 kW / 204 hp from a displacement of 2.2 litres, allowing the saloon to accelerate from standstill to 100 km/hin just 7.0 seconds, on the way to its top speed of 250 km/h. Notwithstanding these exceptional performance figures, the Prime Edition only consumes an average of 5.2 litresof fuel per 100 km(NEDC), with CO2 emissions of 138 g/km. Spectacular dimensions in open-top driving are opened up by the new Mercedes-Benz SLRMcLaren Roadster 722 S. With an output of 478 kW/650 hp, acceleration from 0 to 100 km/hin 3.7 seconds and a top speed of 335 km/h, this open two-seater even betters the standard set for open-air super-sports cars by the SLRMcLaren Roadster.