Muamer Hodzic
September 16, 2008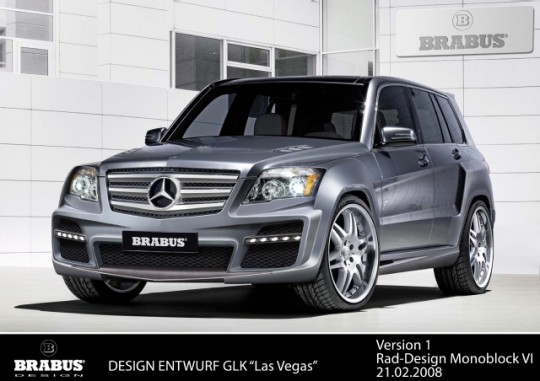 Recently we showed you pictures of how RENNtech is going to tune the GLK350 at this years SEMA Show, but now, we finally have pictures and information on what the other three tuners will do to their GLK350s.
• RENNTech Rally Racer – Inspired by the unlimited-class rally cars at the storied Pikes Peak Hillclimb, the GLK concept represents the Mercedes-Benz performance specialist's first hybrid powertrain to enhance acceleration off the line and out of the corners.
• BRABUS Widestar – Developed by Mercedes-Benz tuning experts Brabus of Bottrop, Germany, this striking wide-track "designer suit" for the GLK includes flowing front and rear wheel arch flares and redesigned front and rear bumpers complemented with exclusive BRABUS wheels and an interior to match.
• The Urban Whip – Florida-based Boulevard Customs is sure to turn heads with a wide body styling kit, massive 26-inch wheels and tires, redesigned interior and ground-pounding stereo system.
• The Four Corners Rock Crawler – Exotic and muscle car restoration specialist Legendary Motor Cars design includes an innovative winching system to propel skate and wakeboarders up to speed and actually "grind" down the vehicle's specially integrated side rails.