Shrawan
May 13, 2008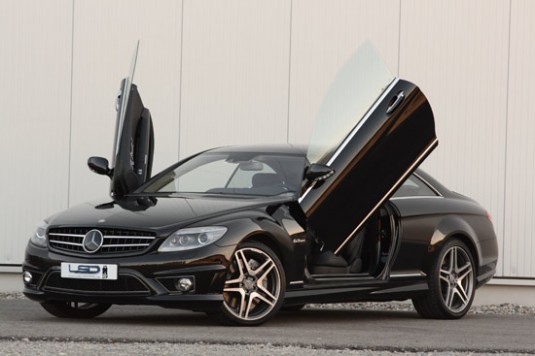 .
The present Mercedes-Benz CL class was launched in 2006 and the stylish and curvy two-door coupe has been a strong performer since then. The coupe is known for its safety, performance, boot space and power, and what else could one ask for?
There are a few though who adore Lamborghini or Mclaren or even the Koennigsegg. Not for their power, performance or looks, but for the wing doors! They didn't have the cash to buy one and settled for the CL, but now, with a fraction of that amount, the CL could be fitted with desirable wing doors to give the CL one more equipment common to those Supercars. Sounds exciting, doesn't it?
LSD doors from Germany is our savior. Get your CL to their nearby dealer and the wing doors would be installed in a jiffy. There is no need for any modification or special hinges as the wing doors are designed to fit in the stock mounting slots. And thats not it. The cool wing doors have passed the side-crash test and have the German TUV parts certificate, meaning they welcome you into the same safe car as it was previously.
The doors also will now open and close more precisely saving all headaches and forceful attempts during winter months. German engineering enables you to open the door in a outward motion with an aperture angle of approx. 30°; and simultaneously allows you to swing the wing door upward. Brilliant!
What we are uncertain about is whether your CL after undergoing this minor implant surgery, would be the same in terms of power to weight ratio. One more area of concern is how much the aerodynamics will be influenced. But for those who are little bothered about those issues are in for a radical and cool addition
Source: LSD Doors