Muamer Hodzic
May 12, 2008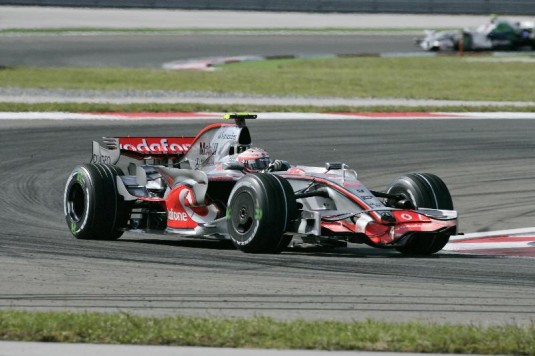 McLaren Mercedes driver Lewis Hamilton finished the Turkish Grand Prix in Istanbul in second place. After 58 laps, he came home 3.7sec behind winner Felipe Massa (Ferrari). Lewis's team mate Heikki Kovalainen had to make an unscheduled stop on lap two following an incident at the first corner which damaged his left rear tire. Heikki ended up 12th. After the fifth of 18 Grands Prix, McLaren Mercedes is third in the Constructors' Championship with 42 points; Ferrari leads with 63 points. Lewis is third in the drivers' ranking with 28 points, tied on points with Felipe Massa in second place; Heikki is sixth with 14 points. Kimi Rà¤ikkà¶nen leads with 35 points.
The start: Heikki and Lewis had qualified second and third respectively. Lewis improved to second behind Massa whilst Heikki dropped to fourth behind Robert Kubica (BMW Sauber). Following a collision at the first corner the Safety Car was deployed.
The race, lap 2: Re-start. Heikki pitted due to a damaged left rear tyre which was the consequence of a coming-together with Kimi Rà¤ikkà¶nen at the first corner. The Finn resumed in 18th and last place.
Lap 10: Lewis was second and posted a couple of fastest race laps; his gap behind Massa was about one and a half seconds.
Lap 12: Heikki was 17th.
Lap 15: Lewis was less than a second behind Massa when he came in for his first stop (6.4sec); he resumed in sixth place. Heikki improved to 16th position one lap later.
Lap 24: Lewis outbraked Massa at the end of the back straight and took the lead. Heikki was now 13th.
Lap 25: Lewis opened a gap of 1.8sec.
Lap 26: Heikki pitted from 11th place (9.9sec) and dropped to 15th whilst Lewis's advantage at the front was 3.8sec.
Lap 32: Leading with 8.3sec, Lewis came in for his second stop (6.2sec) and rejoined the race in third place. Heikki was 14th.
Lap 36: Heikki improved to 12th place.
Lap 43: Following the pit stops of Massa (lap 40) and Rà¤ikkà¶nen (lap 43), Lewis was back in the lead.
Lap 45: Lewis came in for his third and final pit stop (5.9sec) and was second, 5.2sec behind Massa and 1.4sec ahead of Rà¤ikkà¶nen.
Lap 50: Heikki pitted for the second time (6.2sec) and resumed in 13th place.
Lap 58 (finish): Lewis came home second, 3.7sec behind Massa. Heikki ended up 12th.
Team Comments
Lewis Hamilton"I am so thrilled with today's result, and I think this is the best race ever for me. It's not about winning, it's about feeling that you extract 100% from yourself and the car and I did that today. Before the race our prediction was that all being well I would finish fifth, so second is such a bonus. I was not happy with my performance yesterday and perhaps if I had managed to get the car on pole I could have won. However, we knew that we would have to use a three stop strategy as a precaution as we had some issues with our tyres. The team did a fantastic job, the pitstops were great, and the balance of the car was superb, and we all kept our spirit up. There were no problems with the tyres in the race. I managed to overtake Felipe at one point, and I really think we have closed the gap to Ferrari. I am so excited about the next race in Monaco and just can't wait."
Heikki Kovalainen"Not a lucky race for me as I made a bad start from the dirty line on the grid. After the start Kimi and I touched slightly which caused a slow puncture to my left-rear tyre. Initially I was not sure whether the tyre was damaged or not, but during the Safety Car period I realised that I had to come into the pits for a new tyre. That was almost it for me, because with my heavy fuel load and the traffic it is extremely difficult to gain any places during the race. However, I did my best but no points. These things happen, and I have had a good weekend and really enjoyed being back in the car. It's a shame that we were not able to get points today as I have been fast throughout, but I am really optimistic for Monaco."
Ron Dennis
"Today we saw a truly phenomenal drive from Lewis, in which he optimised a three-stop strategy that we were forced to adopt as a consequence of concerns we had with his tyres. As a result of the eight points that his second-placed finish netted him, he closed the gap on Kimi in the World Drivers' Championship to just seven points. Heikki's race was spoiled by a punctured left-rear tyre, the result of contact with Kimi at the first corner. As soon as the pit lane had reopened, we called him in for tyres and fuel. Thereafter he drove forcefully and well all afternoon. But for that puncture, he would have scored heavily today. I believe we have closed the gap to our main competition which gives the team a great boost before heading for Monte Carlo."
Norbert Haug"A really exciting Grand Prix and, as I think, quite entertaining for the spectators. We had an aggressive strategy for Lewis which almost paid off as our aims were first places in both qualifying and race. Lewis drove a great race with a good speed. His overtaking maneuver when he passed Massa was surely enjoyed by lots of television spectators as it does not happen too often in Formula 1 that the leading car is passed. Kimi touched Heikki at the first corner, and Heikki had to make an extra pit stop due to a damaged tyre. This ruined his race and prevented him from taking a possible podium finish. We all will continue to work very hard and are looking forward to the season's highlight in Monte Carlo in two weeks' time."