Muamer Hodzic
March 13, 2008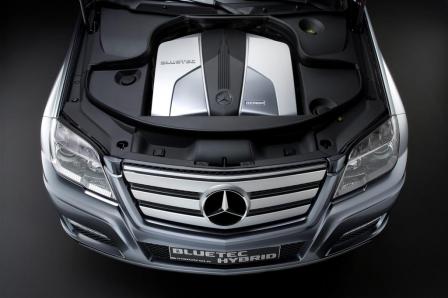 Mercedes Benz will be releasing three SUVs with a new clean burning diesel engine that should not only increase fuel mileage, but also reduce environmental pollution. The R320, ML 320, and GL 320 will all be powered by a BlutTEC V6 diesel engines and be equipped with AdBlue injection, which had been previously tested in Mercedes' trucks and buses. The new SUVs will not only be able to pass the stringent Bin 5 test, but also the future EU 6 standards.
The SUVs itself have been upgraded with more standard equipment, comfort and of course even more safety options.
More detail after the break
Press Release:
Stuttgart – Mercedes-Benz is continuing its diesel initiative in the USA with three new SUVs equipped with the world's latest and cleanest diesel engine. The new models R 320 BlueTEC, ML 320 BlueTEC and GL 320 BlueTEC will initially be available exclusively in America. They are powered by an up-to-date V6 engine featuring the environmentally friendly Mercedes-Benz BlueTEC technology, with whose help the diesel cars produced by the Stuttgart manufacturer already count as the world's cleanest. The new models are equipped with AdBlue injection, which has already been demonstrating its exemplary effectiveness and economy in Mercedes-Benz trucks and buses for a number of years. As a result the three new SUVs achieve even lower emissions, are able to better the stringent Bin 5 limits applicable in the USA, and also have the potential to meet the coming EU6 standards. All three of these new SUVs have also been significantly upgraded with much more extensive standard equipment, and now offer even more comfort together with unique safety features. With these diesel vehicles Mercedes-Benz is once again underlining its status as the technological leader. The new models will be available in the USA from autumn 2008.
In October 2006, Mercedes-Benz was the first manufacturer to commence a BlueTEC initiative in the passenger car segment which was timed to coincide with the introduction of low-sulphur fuel in the United States of America. The E 320 BlueTEC proved a great success from the outset, and was voted "World Green Car of the Year 2007". As a next step, Mercedes-Benz is now due to offer the R, ML and GL 320 BlueTEC in the USA, the world's first three diesel cars which not only meet the particularly demanding criteria of the American Bin 5 standard, but also have the potential to fulfil the stringent EU6 standard due in the future – and which therefore considerably better all the current, worldwide exhaust emission standards for diesel passenger cars.
With attributes such as excellent pulling power, economy and a high output,
the diesel engine has also proved an attractive alternative to the spark-ignition engine in the USAin times of increasing fuel prices and growing sensitivity to the issue of CO2 emissions. In the land of large minivans, pickups and SUVs, and the given driving conditions characterised by steady cruising speeds on the high-ways and enormous overland distances, the diesel is able to show its advantages particularly well. At the same time, American legislation sets very strict emission standards for diesel-powered vehicles. This is why Mercedes-Benz introduced the E 320 BlueTEC with its in-house BlueTEC technology in America first, and is now including a variant of this BlueTEC technology with AdBlue injection in its cross-Atlantic range. This innovative drive technology enables these large and powerful SUVs to meet the limits imposed by the US Bin 5 standard.
Impressive power, great fuel economy and extremely low emissions
The muscular V6 diesel engine powering the new BlueTEC models in the
GL, M and R-Class shows that a low fuel consumption and very low emissions are also possible for large SUVs. It has an output of 155 kW/211 hp and develops a torque of 540 Nm. Fuel economy is outstanding: the GL 320 BlueTEC, for example, consumes just 9.5 litres of diesel fuel per 100 kilometres (25 mpg). This represents an advantage of around 20 to 40 percent versus a comparable petrol model, and easily makes the Mercedes-Benz GL 320 BlueTEC the most economical full-size SUV in the USA.
Key technical data at a glance:
| | |
| --- | --- |
| Cylinders | V6 |
| Valves per cylinder | 4 |
| Displacement cc | 2987 |
| Bore x stroke mm | 83 x 93 |
| Compression ratio | 1:16.5 |
| kW/hp at rpm | 155/210 at 3400 |
| Nm at rpm | 540 at 1600 – 2400 |
Certain features of the six-cylinder diesel engine had to be modified for use in the new models ML 320 BlueTEC, GL 320 BlueTEC and R 320 BlueTEC with AdBlue injection. The piston crowns were revised for an improved mixture formation, and the compression ratio was reduced from 17.7 to 16.5. The VNT turbocharger and engine control unit were also improved and reconfigured. All three of the new SUVs are available only with the 7G-TRONIC seven-speed automatic transmission.
Nitrogen oxides drastically reduced with BlueTEC
As a modular concept for an effective reduction in the fuel consumption and emissions of diesel vehicles, the BlueTEC technology developed by Mercedes-Benz puts in place a number of coordinated measures which both minimise untreated emissions using in-engine features and ensure efficient exhaust gas aftertreatment. All relevant emissions components are successively and concertedly reduced to a minimum, in part by using an oxidising catalytic converter and a particulate filter. The most important goal is to achieve a drastic reduction in nitrogen oxide emissions, the only exhaust gas constituent which has inherently higher levels in diesel engines than in petrol engines. Mercedes-Benz has developed two versions to this end. In the E 320 BlueTEC Saloon available in the USA and the E 300 BlueTEC sold in Europe, an oxidising catalytic converter and a particulate filter are combined with a particularly durable NOx storage-type catalytic converter and a special SCR (Selective Catalytic Reduction) converter. The second BlueTEC version is used for the new GL 320 BlueTEC, ML 320 BlueTEC and R 320 BlueTEC models. In this case AdBlue, an aqueous urea solution is injected into the stream of exhaust gases. This releases ammonia, of which 80 percent is reduced to form harmless nitrogen and water by the downstream SCR converter.
This innovative emissions control technology follows the following stages:
Optimisation of the engines and their combustion processes to reduce untreated emissions as far as possible. These measures include electronic enginge management, four-valve technology, third-generation common-rail direct injection with piezo-electric injectors, a turbocharger with variable turbine geometry and exhaust gas recirculation.

Oxidising catalytic converters are used to minimise emissions of carbon monoxide (CO) and unburned hydrocarbons (HC).

A particulate filter, which has been standard equipment in all Mercedes-Benz diesel models in many countries since summer 2005, reduces particulate emissions to a barely measurable level. This easily meets both the current EU4 particulate limits (0.025 grams/kilometre) and the current US limits.

Nitrogen oxides are reduced by a storage-type Nox catalytic converter combined with an SCR catalytic converter, or by AdBlue injection combined with an SCR catalytic converter. These effective aftertreatment methods allow the nitrogen oxide emissions of BlueTEC vehicles to be reduced by up to 80 percent.
AdBlue injection specially advantageous in large vehicles
Whether a storage-type Nox catalytic converter or AdBlue injection is used depends on the individual vehicle concept and the prevailing market conditions from case to case. AdBlue technology has advantages for large saloons, pickups and SUVs, as the engine does not need to operate with an intermittent, rich combustion mixture to clean the storage-type Nox catalytic converter which removes the harmful nitrogen oxides from the exhaust stream. This would be necessary at frequent intervals in the case of heavy vehicles with a relatively high fuel consumption, and would lead to an even higher consumption.
In the case of the urea-SCR process, the reducing agent AdBlue is injected into the exhaust tract. This is an aqueous urea solution which is carried in an auxiliary tank. When injected into the hot, pre-treated exhaust gases, AdBlue is first broken down into its constituents of water and urea. From around 170 degrees Celsius the urea is converted into ammonia (NH3) – the actual active agent in this process. The ammonia is stored in the catalytic converter, and reduces the nitrogen oxides into harmless nitrogen when exhaust gases containing nitrogen oxides flow through the catalytic converter. The engine management system controls the injection of AdBlue in such a way that the ammonia reservoir of the SCR converter always contains some but never too much ammonia. This is monitored by an Nox sensor.
A small AdBlue tank is sufficient
The urea solution is held in a separate onboard tank, and fed to the metering module by means of a pump. As the average consumption of AdBlue is only around 0.1 litres per 100 kilometres (or 1 to 3 percent of diesel consumption), the tank can be of such a size that it only needs to be refilled at the workshop during regular service intervals. The tank capacity is 28 litres in the R 320 BlueTEC and ML 320 BlueTEC, and 32 litres in the GL 320 BlueTEC. Even under more demanding conditions with a higher AdBlue consumption, e.g. when towing a trailer, this is sufficient to avoid the need for unscheduled refilling stops in the workshop. This means that the customer has no need to concern him- or herself with the AdBlue level in the tank. Should the AdBlue level unexpectedly fall below a certain level nonetheless, the electronics provide a timely warning.
More extensive equipment and visual modifications
With these innovative BlueTEC models in the R, M and GL-Class, Mercedes-Benz is not only demonstrating the potential of the diesel as a drive system, but also offers tailor-made solutions for the high expectations of the premium segment with the widest range of SUVs. The R-Class particularly excels with its outstanding long-distance comfort, and with the most generous and variable interior with up to seven seats. The M-Class is the most successful Mercedes-Benz Sport Utility Vehicle, and is seen as the trailblazer for all modern premium SUVs. And with the GL-Class, Mercedes-Benz occupies the peak position in the entire SUV world – its occupants enjoy first-class on-road and off-road travel under all conditions.
All three SUVs have now been revised in numerous respects. The modifications to the M-Class are the most comprehensive of all. The new generation of this dynamic SUV now has even more striking characteristics, and appears even more sporty and powerful. The front and rear ends have been redesigned and given a stylistically updated and youthful touch. The front end of this off-roader is now defined by a redesigned bumper, re-contoured headlamps and a larger, even more dominant radiator. The rear aspect also has a redesigned bumper with inset reflective strips to emphasise the vehicle width, as well as tail lights with smoked-glass lenses. Stylistic fine-tuning and new materials which are pleasing to the eye and touch combine with a new two-tone colour scheme to add fresh highlights to the interior. One eye-catching feature is the new four-spoke multifunction steering wheel, which the GL and R-Class will also receive.
The standard appointments for the M, R and GL-Class have also been significantly expanded. They now include the unique, preventive occupant protection
system PRE-SAFE® and NECK-PRO head restraints, as well as a new, Mercedes-Benz developed telematic system with further improved user friendliness, high performance and numerous additional functions.
Key new features at a glance
| | | | |
| --- | --- | --- | --- |
| | M-Class | R-Class | GL-Class |
| Leather multifunction steering wheel in four-spoke design with shift paddles | X | X | X |
| Seats with new design | X | | |
| 4-way electrically adjustable lumbar support for driver and front passenger seat | X | X | X |
| Trailer coupling, folding | X | | |
| New telematics generation | X | X | X |
| LINGUATRONIC voice control with whole-word input | X | X | X |
| Surround-sound system | X | X | X |
| Rear-seat entertainment system with larger screens and radio headsets | X | X | X |
| PRE-SAFE as standard | X | X | X |
| NECK-PRO head restraints as standard | X | X | X |
More performance, more comfort – new-generation telematics
A completely newly developed generation of telematic systems developed by Mercedes-Benz will be used in SUVs in future. These excel with even greater user friendliness, a high performance and numerous new functions. Integrated features include a hand-free system based on Bluetooth technology, and an Aux-In connection for mobile audio units such as an iPod. On request there is also a new Media Interface, which can connect an external music source with the onboard electronics and control system of the off-roader, enabling music tracks to be shown in the instrument cluster and the colour display in the centre console, and conveniently accessed using the keys on the multifunction steering wheel. At the same time the battery of the audio unit is charged.
There is a choice of three units, all of them with a colour display, a twin tuner for improved radio reception, speed-sensitive volume control, a keypad for entering telephone numbers and radio frequencies and a Bluetooth interface which enables a mobile phone to be wirelessly linked to the hands-free system.
In the USA there is also the option of an HD radio and SIRIUS satellite radio. In conjunction with the new telematics generation, Mercedes-Benz also offers the optimised LINGUATRONIC voice control system as an option.
The occupants are also able to enjoy a surround-sound experience of concert hall quality with the latest generation of the optional harman kardon® Logic7® sound system. With its high output and digital signal processor (DSP), this ensures outstandingly transparent listening pleasure.
As a further option, passengers in the rear can be provided with a rear-seat entertainment system featuring two large, 8-inch screens, a DVD-player, two wireless headsets for more freedom of movement and a remote control unit.
Unrivalled safety features as standard
In the SUV segment too, Mercedes-Benz vehicles have always been exemplary when it comes to safety. In future the R, M and GL-Class will be supplied with
the preventive occupant protection system PRE-SAFE® and NECK-PRO head restraints as standard equipment.
Mercedes-Benz is the trendsetter for diesel cars
As long as 70 years ago, Mercedes-Benz was the first manufacturer to use the combustion principle pioneered by Rudolf Diesel in a passenger car engine. This technology has a much higher efficiency than the spark-ignition engine,
and has been steadily improved over many years. One decisive technological leap forward led to the development of the modern diesel in 1997: the introduction of common-rail direct injection in combination with four-valve technology. Since then the abbreviation CDI has stood for both unrivalled fuel economy and an enormous increase in torque – a synonym for a level of pulling power which guarantees plenty of driving pleasure and often makes diesels superior to petrol models developing the same output.
If the diesel has previously had any disadvantages versus the petrol engine,
this has been in the area of its specific emissions – above all soot particles and nitrogen oxides. Ever since the introduction of the maintenance-free particulate filter from autumn 2003, Mercedes-Benz has however also set the best example where particulates are concerned. And despite having achieved a reduction in nitrogen oxides by around 75 percent thanks to in-engine measures over the last 15 years, Mercedes-Benz has not been content to rest on its laurels in this respect. Equipped with innovative BlueTEC technology, which was introduced for the first time in a passenger car in the USA, the high-tech diesel engines from Mercedes-Benz meet the world's toughest exhaust emission limits. While AdBlue injection makes the new M 320 BlueTEC, R 320 BlueTEC and GL 320 BlueTEC the world's cleanest diesel SUVs.
Key technical data at a glance
ML 320 BlueTEC

GL 320 BlueTEC

R 320 BlueTEC

Cylinders

V6

V6

V6

Valves per cylinder

4

4

4

Displacement cc

2987

2987

2987

Bore x stroke mm

83 x 93

83 x 93

83 x 93

Compression ratio

1:16.5

1:16.5

1:16.5

kW/hp
at rpm

155/210
at 3400

155/210
at 3400

155/210

at 3400

Nm
at rpm

540
at 1600 – 2400

540
at 1600 – 2400

540
at 1600 – 2400

Acceleration 0-60mph s*

8.5

9.2

8.6

AdBlue tank capacity gall.

7

8.5

7

Fuel consumption (Fuel Economy Label)
Urban mpg*
Highway mpg *

18

24

17

23

18

24

Tank capacity gall.

25.1

26.4

21.1

Tyres

255/50 R19 BRI (MOE)

275/50 R20 GYR (MOE)

255/50 R19 BRI (MOE)
* provisional figures
The descriptions and data contained in this press kit refer exclusively to vehicles of US-specific configuration.