Muamer Hodzic
March 25, 2008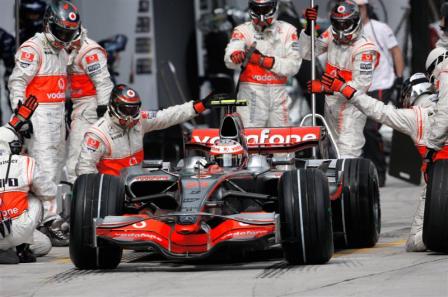 Vodafone McLaren Mercedes drivers Heikki Kovalainen and Lewis Hamilton finished the Malaysian Grand Prix at the Sepang Circuit in third and fifth positions respectively. After 56 laps (310.408 kms), Heikki came home 38.4sec behind winner Kimi Rà¤ikkà¶nen (Ferrari) whilst Lewis was fifth, 46.5sec behind.
After the second of 18 Grands Prix, Vodafone McLaren Mercedes maintained the lead in the Constructors' Championship with 24 points ahead of BMW Sauber with 19 points and Ferrari with 11 points. Lewis leads the drivers' ranking with 14 points ahead of Rà¤ikkà¶nen and Heidfeld (tied on 11 points) and Heikki who is fourth with 10 points.

The start: Heikki Kovalainen and Lewis Hamilton had qualified third and fourth fastest respectively. However, due to an alleged hindrance of other drivers, they were relegated by five positions each and started the race eighth and ninth of the grid. On the opening lap, Lewis overtook four cars and was fifth, followed by Heikki in seventh place.
The race: Lewis got stuck with less than a second behind Mark Webber (Red Bull Renault) whilst Heikki was behind Jarno Trulli (Toyota).
Lap 16: Webber came in for his first stop and Lewis was fourth.
Lap 17: Heikki moved up to fifth place when Trulli pitted.
Lap 19: Lewis came into the pits for his first stop. Due to a problem with the wheel nut locking mechanism at the right front wheel the stop took 19.9sec and Lewis dropped to 11th place.
Lap 20: Heikki made his first pit stop (10.2sec) and resumed in seventh place.
Lap 24: After the first round of pitstops, Heikki was fourth with 32.9sec behind leader Rà¤ikkà¶nen whilst Lewis drove in seventh position.
Lap 29: Lewis followed Webber with less than a second whilst he was followed closely by Nick Heidfeld (BMW Sauber).
Lap 31: Felipe Massa (Ferrari) retired from second place; Heikki was now third and Lewis sixth.
Lap 39: Following Webber's second stop Lewis moved up to fifth place.
Lap 40: Trulli pitted and Lewis was fourth behind Heikki.
Lap 44: Lewis came in for his second stop (8.9sec) and resumed ahead of Heidfeld.
Lap 45: Heikki completed his final stop in 7.2sec. He was now third, followed by Lewis in fifth place.
Lap 56: Heikki finished third. Lewis who reduced the gap behind Trulli significantly came home fifth.
Comments
Heikki Kovalainen
"I am pretty happy with my third place today, considering yesterday's penalty, and it was probably the best possible result for us in these circumstances. Our strategy worked really well and it meant that I was able to be in clean air for most of the race. The team really did a fantastic job and I am happy to reward them with my first podium for the team. I did have a small issue with graining during my first stint; however, I was able to stay out until lap 20, which helped me to overtake Jarno Trulli during my first pit stop. After my second stop I was able to play it safe and secure my third place, as it was not possible at this stage to go one better."
Lewis Hamilton
"I got a really good start and was pretty happy as we jumped five positions from ninth to fifth. I was pushing Mark for a very long time, but being behind someone, no matter how quick you are, it is really difficult to get past. We were in a good position for a shot at third place at least, but then I had the problem in my first pit stop which lost me a lot of time. So I did the best job I could. However we take away the fact that the car ran very reliably in these extreme conditions, and I was able to push Jarno right until the last second. I have to say that both Mark and Jarno drove really well today, and it was great to fight them out on track today."
Ron Dennis
"Two very strong performances from both Heikki and Lewis following an eventful weekend, which despite the problems yielded sufficient points to keep us ahead in both Championships. Heikki had a great race dealing well with the traffic and achieving a well deserved first podium position with the team. Lewis's race was hampered when a wheel nut locking mechanism failed during his first stop, costing him valuable time at a critical part in his race. The true pace of our cars was masked today by the inherent understeer that comes when driving in traffic. We now look forward to the Bahrain Grand Prix in two weeks' time."
Norbert Haug
"Heikki and Lewis did a good job following yesterday's relegation to eighth and ninth on the grid and after the wheel nut problem during Lewis's first pitstop. With third and fifth place we scored 10 valuable points. Heikki made the best out of his strategy and achieved his first podium for Vodafone McLaren Mercedes – well done for him and the team. Today, Lewis obviously had two handicaps starting ninth and losing more than 10 seconds in the pits. But still we finished in the points with both cars in both races of the season so far. We all will now continue to work hard to further improve our performance."