Muamer Hodzic
March 17, 2008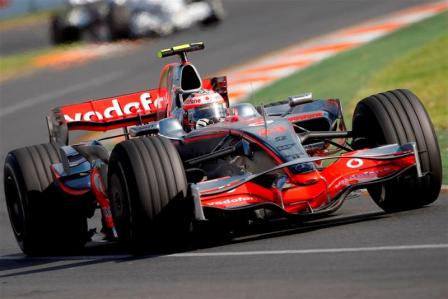 The F1 Grand Prix in Melbourne this Sunday, will certainly go down in the history books as one of the craziest races ever, right next to the Michelin disaster of June 2005 in Indianapolis, when only 6 drivers were able to race. Melbourn had no tire issues, but a whole bunch of accidents, motor and transmission problems, which after 58 laps had only 6 drivers finish the race. Rubens Barrichello, who finished 6th, was disqualified for driving through a red light in the pit stop. At the end, there were only 5 legitimate drivers who scored points by finishing the entire race. Kazu Nakajima, Sebastien Bourdais, and Kimi Raikonen scored points at the end of the day, even though, they retired a couple of laps before the race was over.
Our man Hamilton finished first in Melbourne, beating Heidfeld and Rosberg by 5.4 sec and 8.1 sec respectively. His next challenge will be in a week at the Grand Prix in Kuala Lumpur, Malaysia.
Results after the break
2008 FORMULA 1 ING AUSTRALIAN GRAND PRIX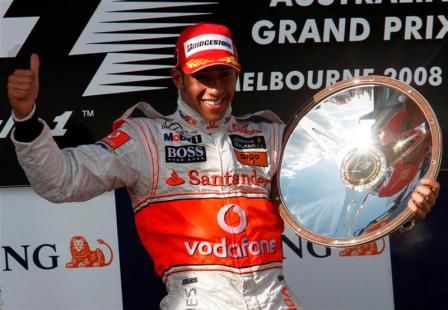 Vodafone McLaren Mercedes driver Lewis Hamilton won the Australian Grand Prix in Melbourne, the first race of the 2008 Formula 1 World Championship. After turbulent 58 laps (307.574 kms) with three Safety Car periods, Lewis won with 5.4sec ahead of Nick Heidfeld (BMW Sauber) and Nico Rosberg (Williams Toyota). Lewis' new team mate Heikki Kovalainen, who led for eight laps and ran second for 21 laps came home fifth. It was the fifth victory for Lewis, just one year after his first ever Grand Prix. The McLaren Mercedes Partnership took their 53rd victory in their 222nd Formula 1 race. After the first of 18 Grands Prix, Vodafone McLaren Mercedes leads the Constructors' Championship with 14 points ahead of BMW Sauber and Williams Toyota with 8 points each. Lewis took the lead in the drivers' ranking with 10 points ahead of Heidfeld (8) and Rosberg (6).
The start: In his 18th Formula 1 career race, Lewis started from pole position for the seventh time. It was the 55th pole position for the McLaren Mercedes partnership. Heikki had qualified third on the grid, his best starting position in Formula 1 so far. Lewis accelerated into an immediate lead followed by Robert Kubica (BMW Sauber) and Heikki. The Safety Cat was deployed due to an incident at the first corner.
The race: Lap 3: Re-start. Lewis maintained his lead ahead of Kubica and Heikki. With a number of fast laps, Lewis opened a gap ahead of the field.
Lap 10: Lewis led 7.6sec ahead of Kubica; Heikki was third 9.1sec behind the leader.
Lap 16: Kubica came in for his first pit stop; Heikki moved up to second place.
Lap 18: Lewis pitted for the first time (9.2sec) and resumed in fourth position; Heikki took the lead.
Lap 21: Rosberg and Heidfeld pitted; Lewis was now second.
Lap 22: Heikki made his first pit stop (9.0sec) from the lead and rejoined the race in second place behind Lewis.
Lap 26: Following a collision between Felipe Massa (Ferrari) and David Coulthard (Red Bull Renault) the Safety Car was deployed again.
Lap 30: Re-start. Lewis maintained the lead whilst Heikki held off charging Kimi Rà¤ikkà¶nen (Ferrari) at the first corner. At the next corner, Rà¤ikkà¶nen attacked again and went off.
Lap 43: Lewis came in for his second stop (8.6sec) and dropped to fourth position. Heikki took the lead and posted the fastest lap of the race (1:27.418).
Lap 44: An accident of Timo Glock (Toyota) caused the third Safety Car period of the race.Following Heidfeld's second pit stop Lewis moved up to second place.
Lap 47: Heikki pitted for the second time (8.0sec) and, due to the close field behind the Safety Car, dropped to ninth.
Lap 49: Re-start. Lewis maintained the lead again; Heikki improved to seventh. Then the Finn overtook Rà¤ikkà¶nen and took sixth place.
Lap 57: Heikki passed Fernando Alonso (Renault) and was fourth. When he accidentally touched the speed limiter, the Spaniard fought back and Heikki was fifth again.
Lap 58: Lewis achieved his fifth Grand Prix victory and won ahead of Heidfeld and Rosberg. Heikki came home fifth.
Comments
Lewis Hamilton
"I feel fantastic – what a dream start to the season and my championship challenge. I am sorry not to have Heikki with me on the podium as a one-two would have been a great reward to the team. It's nice to have Nico here though as we have not shared a podium since our Karting days with Team MBM (Mercedes-Benz McLaren). It was a super race which I controlled from the beginning. I was able to drive at a steady pace without feeling any pressure which is always the ideal situation when you are leading. The three Safety Car periods meant that there was never time to relax and the whole situation was a bit like Canada last year when I claimed my first victory. We constantly had to change our strategy and the strategists were on the ball throughout which was super. The car is fantastic to drive and the team has done a superb job. I have prepared much better this year than last and it's important that myself and the team continue to push hard in the months to come."
Heikki Kovalainen
"Obviously my competitiveness was better than the result shows. Unfortunately the last Safety Car phase prevented me from finishing second. Nevertheless I enjoyed the whole weekend working with the team on such a professional high level. My start was OK but during the first stint I had a bit of graining on the tyres but it didn't affect me too much. In my second stint and especially in the last part of the race my car was really good and I was flying. I had a great battle first with Kimi and then Fernando which I really enjoyed. I managed to get past Fernando but then as I tore off a visor strip on the main straight I accidentally hit the pit lane speed limiter button and Fernando managed to get past me again. I am pleased but also a bit disappointed as we were looking strong for a one-two finish today."
Ron Dennis
"An almost perfect race weekend for us. Lewis drove a faultless race with a strong strategy where his stops were timed in anticipation of possible Safety Car periods. We were keen for Heikki to go an extra lap before his second stop in case he had any problems in the pits so that he could still be ahead of Nick. Unfortunately the last Safety Car period cost him second place. He showed what a great racing driver he is with his overtakings of Kimi and Fernando but unfortunately as he reached to clean his visor he hit the pitlane speed limiter and lost a position. As a team we have enjoyed a competitive weekend but there is a long way to go and we never underestimate our competition."
Norbert Haug
"A dream start to the season and all our hard work could not have been better rewarded. We started McLaren-Mercedes' 222nd race from our 55th pole position and this was our 53rd victory – for sure one of our nicest. We had Lewis pit earlier to avoid running into the danger of a Safety Car phase. Unfortunately the Safety Car came out when we wanted to call in Heikki. That is a pity for him as he drove a great race in his debut for the team. However it's only a matter of time before he will get a better reward on the track than today."