Muamer Hodzic
January 25, 2008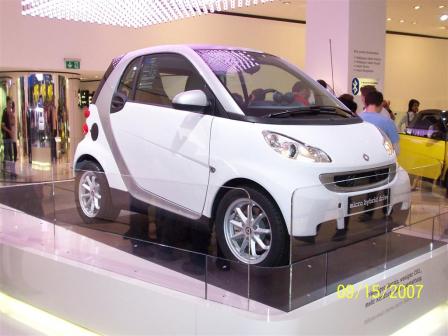 The well-known Italian automobile publication 'Quattroruote' has awarded the smart fortwo cdi a special accolade on account of the car's exemplary consumption and environmental friendliness.
On the occasion of the annual reader's poll 'Le auto che preferisco' ('favourite car') the specialists at the Italian publication 'Quattroruote' singled out the smart fortwo cdi for a special award – the only one presented directly by the magazine. The award is a tribute to the extraordinary environmental friendliness of the trendy two-seater, which proved its status as a 3-litre car during an extensive test drive by the Italian car magazine.

In justifying the presentation of the special award 'Quattroruote' wrote: "the smart fortwo cdi was the first car in the world to realise an average fuel economy of 3.3 litres per 100 kilometres over a total drive of 1000 kilometres. This is an excellent result, which meets the highest demands concerning environmental aspects and energy conservation – combined in a car which is affordable by everyone".
Thanks to its direct-injection diesel engine the smart fortwo cdi also boasts emissions of just 88 grams of carbon dioxide per kilometre, making it the world's CO2-Champion.
The smart fortwo has already been awarded the 'à–koGlobe' and an environmental certificate from the 'à–ko-Trend' institute. According to a study by the German automobile club ADAC the smart fortwo is also Germany's most economical car.