Shrawan
December 21, 2007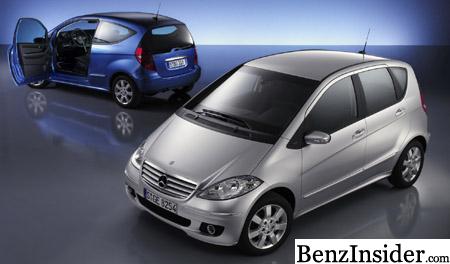 Mercedes-Benz tried but couldn't succeed and as a result, they are going alone. The Benz A and B Class cars didn't sell as much as they would have wished for and high production costs was one of the main culprits for the lack in sales. Retail prices climbed due to increased production costs and Mercedes models came at a premium over its other competitors in the small car category.
To bring down costs, Mercedes had talks with rivals BMW and Fiat for some sort of a partnership but apparently nothing worked out. So they now plan on tackling the problem all alone. Mercedes chief Dieter Zetsche proposed this new plan as a part of his company's CORE cost-cutting strategy.
One common platform for both the A and the B Class is how they go about it. Specifications include front-wheel-drive and high-mounted transverse-sited engines. Some sources say that the next A-Class could be offered only as a three-door model, and a convertible version based on the same platform would follow. The B-Class variant, is expected to be bigger than the current model, about the size of the Volkswagen Touran minivan. Mercedes is also reportedly pondering over a new low-cost assembly plant somewhere in eastern Europe.