Muamer Hodzic
September 13, 2007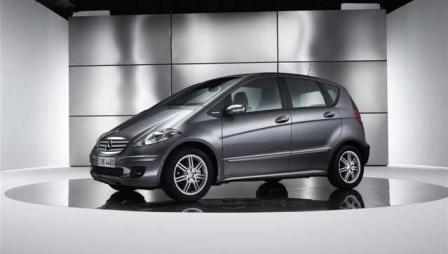 Exactly ten years after the successful A-Class was first presented in 1997, Mercedes-Benz is celebrating the anniversary of this compact car with the exclusive "Edition 10" special model. With a customer cost advantage for the equipment of up to 30 percent, and in addition to the extensive standard appointments, this anniversary edition includes sporty 16-inch light-alloy wheels, a perforated radiator grille and a louvred panoramic sunroof. The sporty, elegant atmosphere in the stylish interior is enhanced with high-grade leather and brushed aluminium. This superbly equipped editions of the A-Class can be ordered with immediate effect.
In autumn 1997 Mercedes-Benz brought some fresh thinking into the compact class with a completely new and unusual concept – the A-Class. This combined advantages such as exemplary use of space, great v ariability and occupant protection to Mercedes standards with the agile handling of a compact car. As its tenth birthday comes around, the second generation of the A-Class is already on our roads. To mark this occasion, Mercedes-Benz is now producing a special model with additional, high-quality appointments, some of which are reserved exclusively for this edition. There is also a price advantage of around 30 percent compared to the list price.

Light-alloy wheels, perforated radiator grille and a special paint finish for a distinctive exterior
Both in visual and practical terms, the new "Edition 10" models of the A-Class have been significantly upgraded with distinctive exterior and interior features. Distinctive, eye-catching exterior details include sporty, 16-inch light-alloy wheels in a 7-twin-spoke design, while a striking, perforated radiator grille painted in matt silver highlights the sporty character of this special model.
Sunny, open-air driving pleasure is guaranteed by the innovative, louvred panoramic sunroof, which opens much wider than most conventional sliding sunroofs. When the scratch-resistant, transparent sunroof is closed, the vehicle interior remains pleasantly light and airy. A retractable double blind, which acts as an air deflector when the roof is open, is used to darken the interior if required.
In addition to the familiar metallic paint finishes, the exclusive and elegant mountain grey is available as a unique and therefore unmistakable hallmark of this special edition, which is also identifiable by a discreet "EDITION" emblem in the mirror triangle.
Aluminium trim and fine leather for a sporty, stylish atmosphere
In the interior a well-coordinated mix of high-grade materials emphasises the exclusivity of the 10-year anniversary model. Trim elements of high-quality, diagonally brushed aluminium on the dashboard console and doors create a stylish contrast with the steering wheel, shift lever and parking brake lever, which are finished in fine leather. Black ARTICO man-made leather frames the seat and backrest panels of the exclusive seats, which are upholstered in a sporty, elegant fabric . The footwells are enhanced by v elour floor mats with silver stitched edging and an embroidered "EDITION" logo.
In addition to the onboard computer, the multifunction steering wheel can be used to operate the MP3-compatible "Audio 5" radio with CD-player and AUX-IN connector. Six loudspeakers ensure a high quality of sound.

Two body variants, three lines and seven different engines
The A-Class model range is available in two body versions, each with its own character. Mercedes-Benz is likewise offering this special edition in the versatile, five-door Saloon version or the three-door Coupe version with its eye-catchingly sporty and youthful appearance. There is also a choice between the CLASSIC, ELGANCE and AVANTGARDE lines.
Seven up-to-date engines are available – three diesel and four petrol units. The outputs of these economical engines range from 60 kW/82 hp (A 160 CDI) to 142 kW/193 hp (A 200 Turbo), with a fuel consumption between 4.9 and 8.1 litres per 100 kilometres (CO2 emissions between 128 and 192 g/km) .
Trendsetter in the compact segment
Around 1.6 million examples of the A-Class have been sold since the debut of this series in autumn 1997, an unrivalled success story which demonstrates customer confidence in the outstanding qualities of this compact Mercedes. Thanks to its innovative sandwich concept, the A-Class combines generous interior space with the exterior dimensions of an agile and economical compact car. It is therefore suitable for both shopping trips in town and extended holiday travel. The Mercedes-Benz A-Class has received several international awards for this convincing concept.
Prices for the exclusive "Edition 10" model, which once again underlines the premium status of the A-Class, range from 21,182 Euro for the A 150 Coupe (A 150 Saloon 22,431.50 Euro) in the CLASSIC line to 29,244.25 for the A 200 CDI Saloon (A 200 CDI Coupe 27,994.75) in the ELEGANCE line. These prices include VAT.
Moreover, Mercedes-Benz is offering a further bonus exclusively for buyers of the "Edition 10": for only 10 euros per month, they will receive a service contract covering all servicing and repair work. This service contract means that operating costs are completely transparent and reliably predictable.