Muamer Hodzic
August 27, 2007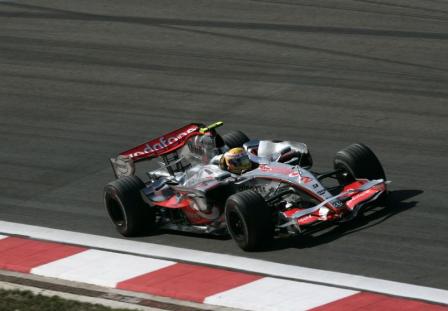 This was another great F1 race on Sunday, unfortunately not a good outcome for the silver arrows, finishing on third and fifth place. The Scuderia team took places one and two right at the beginning and never really looked back at the trailing Hamilton, which ended up on fifth place after an incident with his tire, but fortunately Alonso was able to capture that last podium place with a bit of skill and a lot of luck.
The start: For the fifth time this year, Lewis and Fernando had qualified second and fourth respectively. At the start, Lewis dropped to third behind the Ferraris of Felipe Massa and Kimi Rà¤ikkà¶nen whilst Fernando was sixth at the end of the opening lap.
The race: Fernando got stuck behind Nick Heidfeld (BMW Sauber). When Heidfeld's team mate Robert Kubica pitted on lap 12 Fernando improved to fifth. On lap 17, also Heidfeld came in and Fernando was fourth.
Fernando made his first routine stop on lap 18 (9.1sec) together with Rà¤ikkà¶nen, whilst Massa came in on lap 19 and Lewis on lap 20 (9.4sec). After that, Massa went back into the lead ahead of Rà¤ikkà¶nen and Lewis; Fernando passed both BMW Saubers during his pitstop and was fourth.

On lap 43, Lewis suffered from a damaged right front tyre and drove slowly back to the pits for half a lap. Meanwhile, Fernando came in for his second routine stop (6.6sec). Lewis pitted just a few moments later (10.2sec) and resumed in fifth place behind Massa, Rà¤ikkà¶nen, Fernando and Heidfeld.
After 58 laps, Fernando crossed the finish line third whilst Lewis ended up fifth.
Fernando Alonso
"It was not the plan to lose two places at the start, and so my race was pretty much over when I came into the first corner in sixth place. I was following Nick Heidfeld for 17 laps at the start, and it was very difficult to overtake him. Fortunately, we were able to do this in the first round of pitstops and that was when my race could really start. Unfortunately, I was 30 seconds down at that point, so third was a good result considering. I was told by the team to take it easy after Lewis's puncture to avoid the same thing happening to me, but as I was already quite far back it did not make too much of a difference to my race."
Lewis Hamilton
"A little bit unfortunate but still we did a good job, and the team was fantastic all weekend. We had the pace of the Ferraris, but when you are behind you lose a little bit of downforce; we were just matching them for most of the race. I saw some bits fly off the tyre and then it just blew on braking into Turn Nine. It was lucky that I didn't put the car in the gravel and managed to control it back to the pits, as this meant that in the end I only lost two places. We still got some good points and I remain in the lead of the championship by five points, so it is not all bad."
Ron Dennis
"This was always a race we expected to be challenging, so all in all we are not too upset with today's result. Our pace was good and Fernando and Lewis both put in strong performances. Lewis's tyre failure came at an unfortunate time as he had enough fuel to go a few laps longer than the Ferraris, so we may have challenged them at the end. Anyway we now look forward to the next race at Monza where we expect to be stronger than we have been this weekend."
Norbert Haug
"It's a shame -.the puncture on Lewis's car prevented him from finishing on the podium, but Fernando did it with a very good drive. However, Lewis saved four important points under very difficult conditions following the failure of his right front tyre 15 laps from the finish. These points could be decisive in the end. Important is that with Fernando and Lewis, who finished third and fifth today, we retain the one-two lead in the Drivers' World Championship and stay ahead as well in the Constructors' rankings."