Muamer Hodzic
August 13, 2007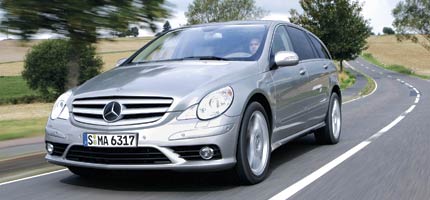 It seems that Mercedes is finally listening to their customers and taking appropriate steps to increase the sales of their R-Class.
Next year, the cheapest R-Class you can get will be the 268hp R350, which has a V6 no AWD and cost you about $43,000. Originally, the cheapest R350 started at around $48,000. Other R models will retain standard AWD.
In the past, spotting a 500 HP AMG R63 has been difficult, probably due to its $80,000 price tag. Spotting one now will be even harder. All 2008 R-Class models will get the body cladding of the 2007 AMG (pictured above) and 18″ wheels, but not the performance mods. No AMG R-Class will be offered in 2008.
The most expensive R next year will be the 221hp R320 CDI at just over $46,000. While I have never understood the R-Class and its purpose, it is nice to see that Mercedes is making the more affortable and getting rid of the AMG model. Why did they think in the first place that Soccer moms would need a high performance R-Class.
via Autoblog