Nedzad
July 25, 2007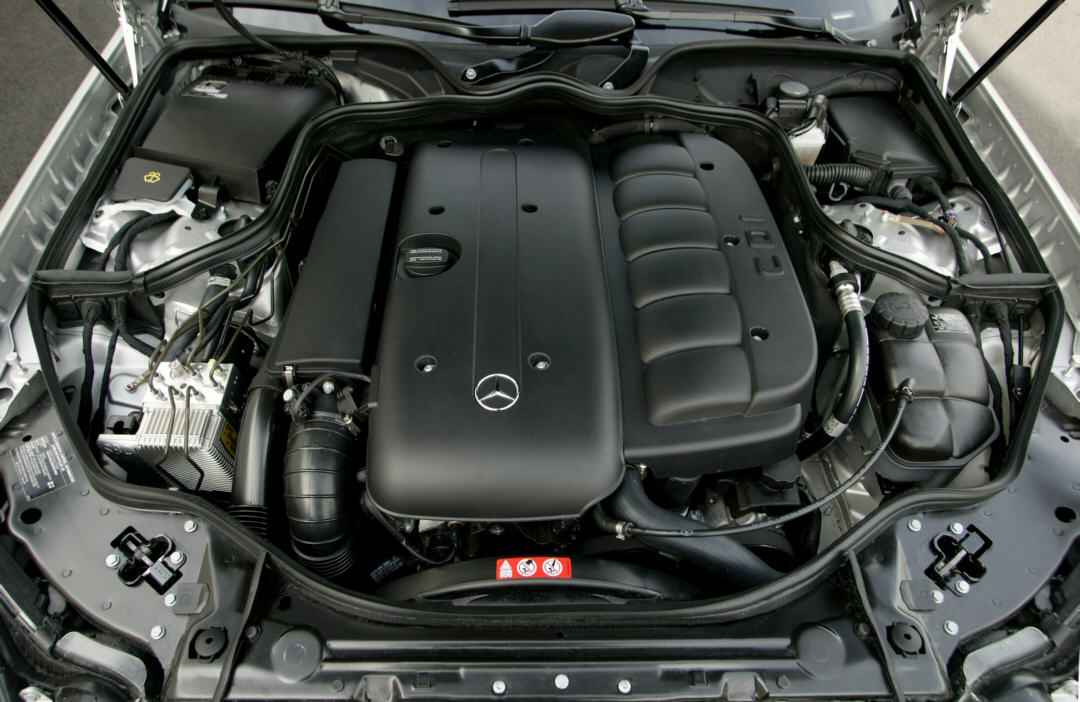 Mercedes-Benz has announced that it has combined all the advantages of both petrol and diesel engines in its "DiesOtto" powertrain. Its potential is indicated by the prospect of a mild-hybrid-assisted 1.8-litre engine giving 47 mpg in a future S Class-size car. The new technology includes features such as direct gasoline injection, turbocharging and variable compression, but at the core of the innovation lies controlled auto ignition, a combustion process similar to that of a diesel. The Mercedes system can be operated using conventional gasoline.
Following Mercedes' launch of the E300 BLUETEC Euro 5-rated diesel engine, already on the U.S. market and due in Europe from the end of this year, Prof. Dr. Herbert Kohler, Head of Group Research & Advanced Engineering Vehicle and Powertrain and Chief Environmental Officer of DaimlerChrysler says: "Our next goal will now be to make the gasoline engine as economical as a diesel. All the preconditions for this are provided by our DiesOtto concept, which incorporates the foremost strengths of both the gasoline engine and diesel engine."
The first DiesOtto engine described in Mercedes' release is a 1.8-litre four-cylinder unit with an output of 175 kW/238 hp and a maximum torque of 400 newton metres, and fuel consumption, with the accompaniment of a mild hybrid starter-alternator, of under 6 litres per 100 kilometres (47 mpg) in a car the size of the current S-Class.
Its key technological features are:
– Downsizing with fewer cylinders and a smaller displacement ~
-Turbocharging for superior performance
– Direct gasoline injection as a further fuel economy measure
– Controlled auto ignition, a combustion process similar to that of a diesel
– Variable valve control
– A variable compression ratio leading to even better fuel economy and, depending on customer needs and the type of operation,
– A hybrid module with an integrated starter/generator, which makes the drive unit even more economical.
Wow, maybe we can expect gasoline prices to go down… Sometime in a future.

When starting and under full load, the fuel/air mixture is ignited by a spark plug, as in a conventional spark-ignition engine (homogeneous combustion). The controlled auto ignition to which the DiesOtto automatically reverts within its working cycle occurs under partial load conditions, i.e. at low and medium engine speeds.
The result is the very low nitrogen oxide emissions of homogeneous combustion at reduced reaction temperatures. All further emissions control in the DiesOtto engine is by means of a standard three-way catalytic converter. A new engine management and control system integates the individual sub-systems into a "drive concept".
Mercedes believes that its DiesOtto drive concept is a feasible proposition in the "mid-term". Some of the intermediate solutions incorporated, e.g. direct gasoline injection, are already in series production at Mercedes-Benz. Others will be gradually integrated into series-production engines.
Other German manufacturers are also investing significantly in achieving new levels of fuel economy; Volkswagen combines a supercharger and turbocharger in its 1.4l TSI engine, providing a Golf GT Sport model with 168 bhp andd 38.7mpg, while its Audi subsidiary is expected to launch an AdBlue exhaust-treated Euro 5 diesel V6 in mid-2008, capable, like Mercedes' E300 BLUETEC, of meeting both U.S. and Euro 5 emissions limits.
Porsche is planning to offer a hybrid powertrain in its Cayenne and Panamera by the end of 2009, which will incorporate a 54 hp electric motor with a 280 hp petrol engine giving a 120km electric-only range, and reducing the Cayenne SUV's average fuel consumption to about 32 mpg from the current 22 mpg.