Muamer Hodzic
April 16, 2007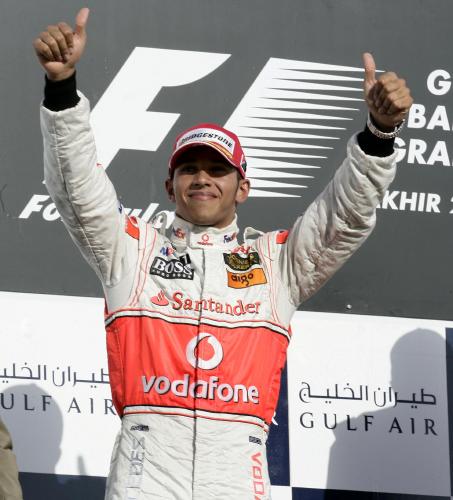 The F1 was back this weekend, this time in the sunny bahrain where the end result for the Mclaren Mercedes team was not what they hoped for. The more I watch Hamilton drive, the more I can see a true talent emerging. This kid is only 22 and can compete, and sometimes even be faster than the two times world champion, against Alonso. If there isn´t already an agreement in the Mclaren Mercedes team to let Alonso win the titile, then I say Hamilton has a chance to do it. The only thing necessary for that to happen, is that the team should have no favorite driver, let them race and see who is faster.
The start: For the third time in a row, Lewis and Fernando had qualified in second and fourth position, on this occasion with Lewis ahead of his team-mate for the first time. At the start the British driver stayed behind Massa in second position. Fernando immediately moved ahead of Rà¤ikkà¶nen to take third. The race was slowed when the safety car was deployed after an accident between Jenson Button (Honda) and Scott Speed (Toro Rosso Ferrari). At the beginning of the fourth lap the race was on again.
The race: Lewis maintained a gap of around one second behind Massa while Fernando followed in third place.

Lap 19: Lewis came in for his first pit stop (9.9sec) and resumed the race in sixth position. On lap 21, Massa came in for his first stop (8.5sec) and Fernando took the lead until his first pit stop one lap later (8.4sec).
Lap 24: The top six runners had finished their first round of pit stops and Massa led the race ahead of Lewis. Fernando had lost one position and ran in fourth place behind Rà¤ikkà¶nen.
Lap 32: Nick Heidfeld (BMW Sauber) got past Fernando and the Spaniard was now fifth. – Lap 40: Second pit stops for Massa (8.2sec) with Rà¤ikkà¶nen (7.6sec) and Heidfeld (7.1sec) following one lap later.
Lap 43: Fernando came into the pits from second place (6,6sec) while Lewis stayed out on the track until lap 44 when he made his second pit stop in 7.1sec, thereafter resuming in second place behind Massa and ahead of Rà¤ikkà¶nen, Heidfeld and Fernando.
Lewis closed the gap to Massa from 7 to 2.3sec and took the chequered flag after 57 laps in second position, Fernando coming home fifth.
Comments
Lewis Hamilton: "I'm very pleased with today's result. To have finished on the podium three times out of three is fantastic. We have definitely closed the gap to Ferrari and I know everybody will continue to push hard to improve even more in time for the Spanish Grand Prix. I was able to keep up with Felipe in the first stint but I really struggled with the balance of the car in the second. I had a lot of under steer and wasn't able to brake as late as I would have liked. However after the second pitstop when I changed to hard tyres I was able to push again. I really enjoyed the race today and with a few more laps I might have been able to challenge Felipe for the lead."
Fernando Alonso: "In a way I feel happy as we came away with four points and still leading the championship which is what is important. This was not a great race for me but these things happen. I was struggling for pace and overall grip which means that you can't drive the car as well as you would like. You always start the race believing you can win but after six or seven laps I knew that it would be tough. I couldn't keep up with the Ferraris and Lewis and in the end had to settle for fifth. I was close to Heidfeld in the end but there was nothing I could do. We now look forward to the next couple of weeks where we will all work hard to further improve the car in time for my home grand prix in Barcelona."

Ron Dennis, Team Principal: "Even though it was not a perfect day we can leave Bahrain leading both Championships which is a great achievement for the team. Fernando struggled a bit with the balance of his car and we never really managed to perfect his set-up. Lewis was more comfortable with his car and had a great race. Our intensive R&D programme will now change up a gear and hopefully deliver a performance step that will make us even more competitive at the Spanish Grand Prix and of course we are already looking forward to the start of the European season in Barcelona."
Norbert Haug, Vice President Mercedes-Benz Motorsport:
"Fernando is leading the Drivers' Championship with 22 points, Lewis having had three races and three podium finishes and the team retaining the lead in the Constructors' Championship it is a very good start to the season. We will all now be working hard to be best prepared at the start of the European season in four weeks time in Barcelona."