Muamer Hodzic
March 19, 2007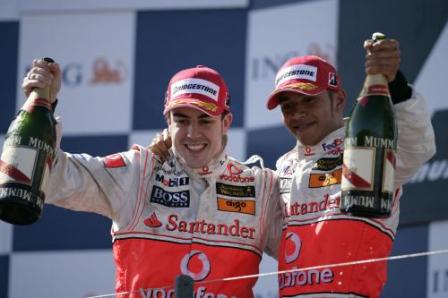 The new F1 season has finally begun this Saturday at the Australian Grand Prix. Like any F1 fan, I have been counting down the days to get to watch my favorite motorsport. There is just one thing that I am having issues with the new season, Schumi is no longer driven, which for many people I have spoken with is a big shame, as he made the F1 so much fun to watch; with all the rivalries he had with different drivers, he certainly knew how to hold his ground and continue dominating year after year while his opponents kept retiring or disapearing from the scens.
Another issue I am having this year is the fact that Raikkonen went to Ferrari and Alonso joined Mclaren. I am having trouble adjusting that my long time favorite driver (Raikkonen), is driving for Ferrari, and Alonso, whom I disliked for years has joined the Mclaren team. I guess it will take some time to not only adjust to this.
The race: After Nick Heidfeld made his first refuelling stop on lap 14 Lewis and Fernando were running in second and third places. When Rà¤ikkà¶nen made his first stop at the end of lap 19, Lewis took the lead with Fernando second. On lap 22, Fernando made his first stop in 9.3sec and went back into the race third behind Lewis and Rà¤ikkà¶nen. On the next lap, Lewis pitted for the first time in 8.7sec and resumed second ahead of his teammate. On lap 42 Rà¤ikkà¶nen made his second stop allowing Lewis through into the lead, but he was held up by a lapped car and Fernando closed the gap. Lewis came in at the end of lap 43 (8.2sec). Fernando took the lead and stayed out another two laps before making his second stop in 6.5sec. The Spaniard accelerated back into the race in second place ahead of Lewis. Fernando took the chequered flag after 58 laps in second place with Lewis finishing third on his first Grand Prix outing.
Click on more to read what the Mclaren team had to say:


Fernando Alonso: "What a great way to start the season and my career as a Vodafone McLaren Mercedes driver. Of course it's always better to win but Kimi was a little bit quicker than us today, but we scored the maximum points that were possible, and I'm really pleased. My start was a bit strange with both BMWs being very quick off the line, and I was so busy defending my line from Heidfeld on the outside that it was not possible for me to defend the corner. I was then behind the Lewis for a while and was just focusing on keeping up with him and sometimes dropping back to allow the car to cool down. I took second after the second pitstop as I was able to stay out for an additional two laps. Originally it was meant to be one lap but because I was behind Lewis I managed to save enough fuel for one more lap. Both of the Bridgestone Potenza tyre options worked well. We will now continue to work hard to give us the best opportunity to beat Ferrari at the Malaysian Grand Prix."
Lewis Hamilton: "I'm absolutely ecstatic – today's result is more than I ever dreamed of achieving on my Grand Prix debut. A big thank you to the team who have worked so hard during the winter to make sure I was as prepared as I possible could be. I made a good start but the BMWs were quick off the line and Kubica managed to get past. There was no room on the inside so I got on the left and managed to outbrake both Kubica and Fernando coming into the first corner to take third. The race was intense, and I was working very hard. I made a few mistakes but nothing major and really enjoyed myself. It was great to lead the race for a few laps, but I knew it was only a temporary thing. Fernando got past me in the second pitstop as he was able to stay out a bit longer and I lost some time behind backmarkers. We now have a lot of work ahead of us with the Malaysia test and the rest of the season, but there is no doubt that we can build from what has been achieved today."
Ron Dennis, Team Principal: "Of course as always we came to Australia to win but a somewhat unexpected strategy adopted by BMW was very disruptive to our race. Following Heidfeld's first pitstop the gap was just too big to realistically close it and the additional range from our strategy was subsequently wasted. Both drivers did an excellent job giving us a narrow lead in the Constructors' Championship. A special thank you to the test team and the workforce back at the McLaren Technology Centre who have worked so hard during the winter and contributed so much to the faultless reliability that we have enjoyed throughout the weekend. The coming Malaysian test should give us every opportunity to further improve the competitiveness of our cars."

Norbert Haug, Vice President Mercedes-Benz Motorsport: "The season started well with Fernando and Lewis scoring 14 points out of 18 possible on their debut race for Vodafone McLaren Mercedes. Fernando showed with his performance exactly why he is the double world champion whilst Lewis made a perfect start to his Grand Prix career and proved absolutely worthy of the confidence we have had in him for the past ten years. Although we still have to work hard to further improve our technical package, we showed today that throughout the winter we have made improvements. We will now focus on the Malaysia test and are looking forward to the next race. Thanks to everybody in the team in Woking, Brixworth and Stuttgart, all their efforts will pay off."