Muamer Hodzic
January 12, 2007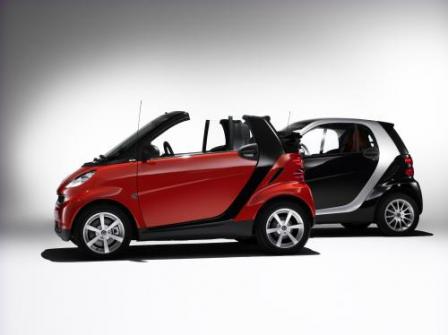 The new smart fortwo is available to order from all smart centers from Monday 15 January 2007. Customers will be pleased to hear that prices for the new vehicle are no higher than for previous models. The new smart fortwo coupe with 45 kW (61 bhp) is available in the pure equipment line at a price of € 9,490.
The new smart fortwo will arrive on the market in April and will be available as both a coupe and a cabrio. There are two naturally aspirated petrol engine versions to choose from, delivering 45 or 52 kW (61 / 71 bhp) respectively, and one turbo engine rated at 62 kW (84 bhp). The diesel version, the smart fortwo cdi, has a power output of 33 kW (45 PS).
Well if you want to convert it into the US dollars, the € 9,490 would amount to approximately $12,280. If look at the usual price difference between models in Europe and her in the States, the difference isn't always the currency conversion rate, the cars in the US are usually cheaper, which leads us believe that the Smart Fortwo will cost less than $12,000.