Muamer Hodzic
January 24, 2007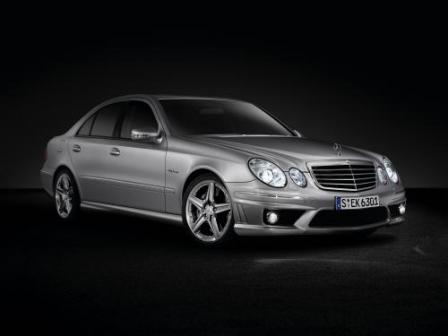 For all those luckey guys that have a E63, a special AMG performance package will shortly be available. It comprises various technical components which significantly enhance the handling dynamics, the motorsport potential and the individuality of this model. The performance package was developed at the AMG PERFORMANCE STUDIO in Affalterbach and the vehicles are built at the DaimlerChrysler production plant in Sindelfingen.
The performance package will be available for the E 63 AMG Saloon from March 2007.
• 18-inch 5-spoke multipiece AMG alloy wheels, painted sterling silver, front wheels size 8.5 x 18 with 245/40 R 18 tyres, rear wheels size 9.5 x 18 with 265/35 R 18 tyres
• AMG performance suspension with firmer tuning, based on AIRMATIC DC
• Multi-disc rear locking differential with 40% locking effect, providing more traction when accelerating out of corners
• AMG ergonomic sports steering wheel in leather/black Alcantara with silver-coloured aluminium shift paddles

AMG optional extras for other models
For the SLK 55 AMG, SL 55 AMG, E 63 AMG, CLS 63 AMG and CLK 63 AMG models, exclusive individual optional extras from the AMG PERFORMANCE STUDIO are now for the first time also available ex factory.
SLK 55 AMG
• 18-inch twin-spoke AMG light-alloy wheels, multipiece
• AMG performance suspension
• AMG carbon trim parts
• Velour floor mats with AMG lettering
SL 55 AMG
• 19-inch twin-spoke AMG light-alloy wheels, multipiece
• Velour floor mats with AMG lettering
E 63 AMG Saloon and Estate
• 18-inch five-spoke AMG light-alloy wheels, multipiece
• AMG performance suspension, based on AIRMATIC DC (only for saloon)
• AMG rear locking differential
• Velour floor mats with AMG lettering
CLS 63 AMG
• 19-inch five-spoke AMG light-alloy wheels, multipiece
• AMG performance suspension, based on AIRMATIC DC
• AMG rear locking differential
• Velour floor mats with AMG lettering
CLK 63 AMG
• Velour floor mats with AMG lettering