Muamer Hodzic
December 28, 2006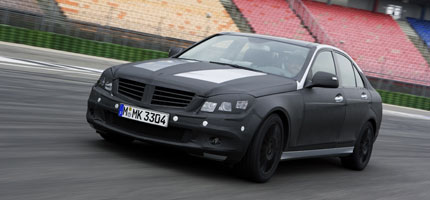 We're all having trouble sleeping, or is it just me, waiting for the official release of the new C-class that is designed to please many more buyers than ever. It will be hard to beat the success of the predecessor (current version), which sold more than 1.4 million times in the 7 years it was available.
When the new version arrives, we can expect it to have the following engine options available for us, C280 V-6 (228 horsepower), C350 V-6 (268 horsepower) and the C550 V-8 (380 horsepower), all with the automaker's seven-speed automatic. And just like with any other Mercedes model, a C55 AMG is expected after a year. If the current German horsepower war continues, there's room under the hood for a C63 AMG, ready to out-gun even the upcoming V-8-engined BMW M3.
One thing that really sets this C-Class version apart from the previous or any other Mercedes, is that is has done more test mileage than any Mercedes model before it, according to the automaker. Some 280 prototypes covered a total of 140 million test miles worldwide.
Mercedes constructed a 'virtual prototype' of the car, made up of some 2130 Gigabytes of data. The model was run through 5,500 crash test simulations, plus ride and handling analysis, NVH tuning, aerodynamics tests — even climate-control simulation.
Read more over at Motor Trend