Peter Parcon
March 26, 2013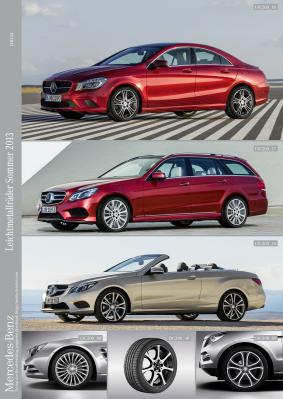 As the summer season approaches, Mercedes-Benz Accessories is unveiling its latest light-alloy wheel offering. The set features a number of nineteen-inch wheels that have a high-sheen finish. These latest wheel offerings are available for a number of the current Mercedes-Benz car models.
The contrast between the painted areas and the metal surface of the light-alloy wheels adds to its appeal since they provide the vehicle a more distinctive look. Mercedes-Benz designers also consider this look more than just a simply trend.
The light-alloy wheels also enhance safety on the Mercedes-Benz aside from boosting its look. The design of the wheels takes into consideration dimensions, stress and strain. They also go through a wide-ranging testing program before they are released into the market. In the program, each wheel goes through a series of evaluations basing on the strict guidelines of Mercedes-Benz.
The wheels are also made to go through evaluations that replicate real0world traffic conditions. The materials used for the wheels are also examined through a high-tech x-ray system. In addition, the high-sheen wheels also go through tests that involve the use of salt spray or they undergo a climate program that lasts for 28 days. Once they pass these tests with flying colors, they will be included in the light-alloy wheel line-up of Mercedes Benz.