Clarissa
September 21, 2011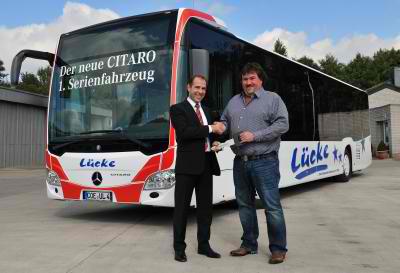 On September 19, a special ceremony was held to celebrate the delivery of the Citaro to Lucke-Reisen. The company, based in Nordkirchen is the first company in the bus and coach industry that chose the new-generation Citaro, the best selling city bus from Mercedes, which was completely updated in an aim to increase sales and interest for the vehicle.
The new Citaro has a safety feature set based on the ECE R 29 standard. With a lighter frame, it creates more protection. Meanwhile, the doors, aside from being lighter, now has pivot-and-slide door at the front entrance. The driver's area is raised to make sure that he has a better view of everything, it also gives a sense of safety for the passengers as they are on the eye-level with the driver. The driver's cockpit is completely redesigned, which provides more information due to the colored display.
Although there has been lots of changes in the new Citaro, there's one thing that it inherited from its predecessor, the BlueTec diesel technology. The bus that was delivered for Lucke-Reisen is powered by a six cylinder turbo diesel OM 906 hLA that outputs 210 KW and 1120 Nm torque.